Our Mount'n Mover Self-Replicates!
Our jig master and assembler Linda Scott "Scotty" created her own table mount using Mount'n Mover components to help assemble new Mount'n Mover.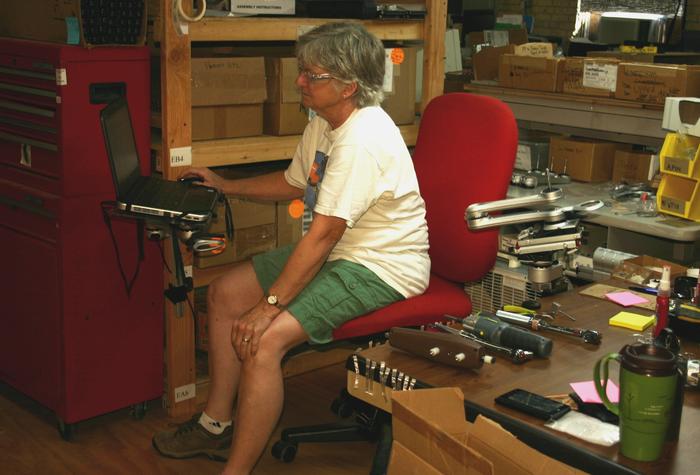 "I used to have to do it on a table. It wasn't stable." Scotty said. After 9 months of frustration Scotty designed a solution. She took a Tilt'n Turner and mated it to a second Quick-Release Plate to use upside down.
"It's easy for me to work on," Scotty demonstrates as she slaps an arm on the QRP and rotates it to build from the top down.
She can rotate the entire device as she works on it and tilt it at any angle to access the point she needs. "As I build it I need to get at different parts," Scotty tilts the entire assembly to get friction plate on and keep it stable while she secures it.
She didn't stop there. Scotty also mounted a universal access dual arm laptop tray in her workspace. At first the laptop was standing up high on a shelf for access. She had to stand up to reach it so Scotty decided to shift it to a more stable ergonomic setup.
The Mount'n Mover was mounted to the shelves so the laptop could swing out on the dual arm as needed or stow out of the way when production resumed. "The mount easily accommodates different workers at the station because you can easily adjust the height of the post as needed," Scotty explained. When she's not working at BlueSky Designs, the mechanical designer and cabinetmaker commutes across her yard to her own business Cedarberry Studio where she specializes in cabinetry. Looking around the BlueSky Designs workstation, you can see components of our Mount'n Mover have taken up residence everywhere. Posts are mounted to worktables for final testing on new mounts as well as repair work on used models. Some brackets have even taken a new life as nifty pen holders and paper weights.