ATPs, OTs, rehab centers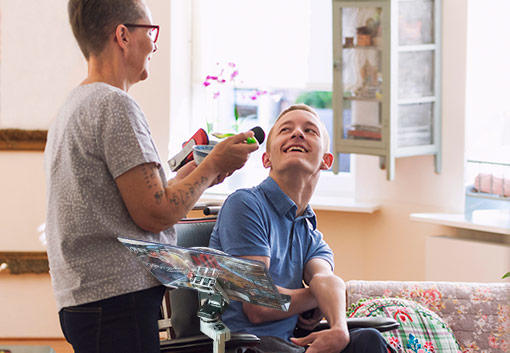 Our movable wheelchair mounting system is a simple way to transform lives by enabling a new level of independence for your clients
What if you could give your clients a greater degree of independence and improved quality of life by changing one simple thing? That's exactly what you provide when you equip wheelchairs with our innovative movable wheelchair mount instead of the static type, which has always been the industry standard. With BlueSky's Mount'n Mover, they're able to do more on their own, moving our mount aside or adjusting its position without asking for help.
The psychosocial and medical benefits of using a Mount'n Mover wheelchair mount are proven out in various research studies. For example, in an Ithaca College study, positive feelings (competence, adaptability, self-esteem) greatly increased, while negative emotions (frustration, embarrassment, confusion) decreased. Health benefits include improved range of motion/dexterity, access to sink/toilet (hygiene), ability to exercise without restrictions, reduced pain from better ergonomics, less fatigue and better head control.
You are in the assistive technology and rehab field because you want to help people and make a difference. We make it simpler for you to incorporate Mount'n Mover wheelchair mounts in your program, with comprehensive support and training resources for every stage of the process from evaluation to installation. It's easier than you might think. We have mounting solutions for tables, beds and floor stands.
Check out our product loan program or consider purchasing an evaluation kit for your clinic or school. Contact us to learn more.