Schools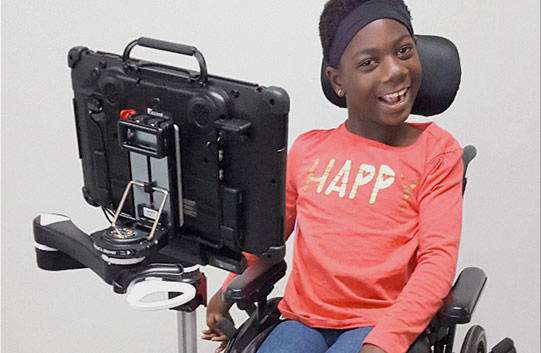 From school districts to colleges, better access to education for students with disabilities
BlueSky's Mount'n Mover wheelchair mounting system enables equal access to education for everyone. Our movable wheelchair mount is helping students participate, learn and play in K-12 school districts and universities throughout the country. For example, Virginia Beach City Public Schools has transformed its Special Education program with Mount'n Mover workstations, for a cost-effective Universal Workstation solution. Educators can quickly adjust the position of devices like iPads so that students in wheelchairs or on ground level can easily access them.
College students in wheelchairs, who need to multitask (reading, writing, using a laptop and eating), do it more easily with our selection of mounting solutions and trays, including our wheelchair iPad mount. Trays can be swapped out and adjusted to the right position for the device and task. Teacher Ken Walsh, who has a C5/6 spinal cord injury, says our mount has helped him become a better teacher. He moves around the classroom in his wheelchair and swings the Mount'n Mover with device screen (on our wheelchair tablet mount) over to interact with students, share information and increase class participation.
A two-week loan program is available for those who would like a test drive. Contact us to learn more about our Meet the Mount'n Mover Program.