Speech device companies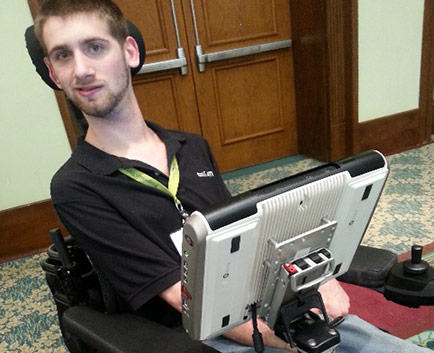 Our eye gaze wheelchair mount removes a barrier for clients who need a speech device and want to do more with their lives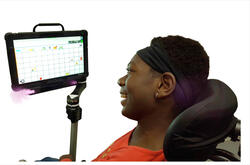 Surprising but true: Ryan Carter (above), who became a brand ambassador for Tobii Dynavox, didn't want to use a speech generating device until he discovered BlueSky's Mount'n Mover, which solved the access problems he was struggling with. Flexible and durable, our movable eyegaze wheelchair mount gave him the independence and security he was looking for.
"What I needed was a mount that would allow me to move my device to the side by myself so I could chat with friends, drive and transfer safely. Mount'n Mover with all its 1800 positions allows me to put it exactly where I want it," says Ryan.
Ryan emphasizes how important it is to have the right mount in order to be successful with a speech device. Neither static mounts nor other "movable" mounts offer the range of capabilities and access that Mount'n Mover does. For people like Ryan, who want to do more and do it independently,, Mount'n Mover is the missing ingredient that bridges the gap. And BlueSky's comprehensive support program makes it simpler for your reps and ATPs to include the right Mount'n Mover configuration for the specific needs of each client.
A two-week loan program is available for those who would like a test drive. Contact us to learn more about our Meet the Mount'n Mover Program.