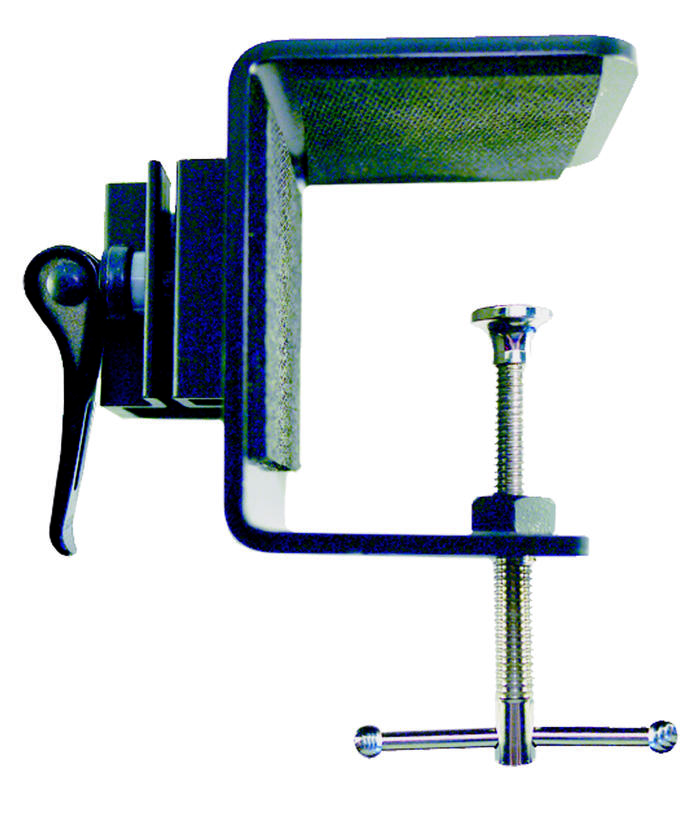 Quickly adjust tilt, height and positioning
Extends out from a table—easy wheelchair access
Conduct evaluations easily, with good positioning

speech device trials
access to computers and controls

Clamps to any desk, table or tray from 1/2" to 3"
Tool-less operation
Attach above or below table
Using a table clamp
Secure the clamp to the table edge with the swivel screw
Open the "Cam clamp" lever
Loosen the Height Set Screw during initial setup
Slip in your Mount'n Mover post, aligning the post slot with the square clamp slot
Close the "Cam Clamp" lever
Tighten the Height set screw at the desired setting (this keeps post from going further down when Cam clamp lever is open)
Height adjustability and range
Height range: The height range for Table Clamps really depends on the length of your Mount'n Mover post.
Adjustable height, with a memory position: Use the height set screw built into the Mount'n Mover post for repeatable mounting height!
Mounting below the table: You can even mount below your table clamp. This is especially helpful for children or people in manual wheelchairs or regular desk chairs.
Steps to mounting below the table:
Loosen the bolt that tightens the mount to the post
Slide the post up above the mount
Tighten the bolt
Insert it into the Table Clamp from below
Important: Tighten the Cam-clamp lever to ensure it doesn't drop
Clamps to any desk from as thin as 1/2" to 3"
The table clamp uses a simple screw clamp to attach to tables and desks.
Because we use a simple screw-clamp, the Table Clamp can easily get over and around tables with lips or even tables with uneven underside edges.
We do not recommend attaching to tables thinner than 1/2" as this typically is too flimsy to support the weight and moment of a Mount'n Mover system.
You may find you need to use a shim or piece of wood to provide a better clamping surface or to reinforce thinner tables. You can accomplish this by inserting a plate or piece of ½" thick wood beneath the table.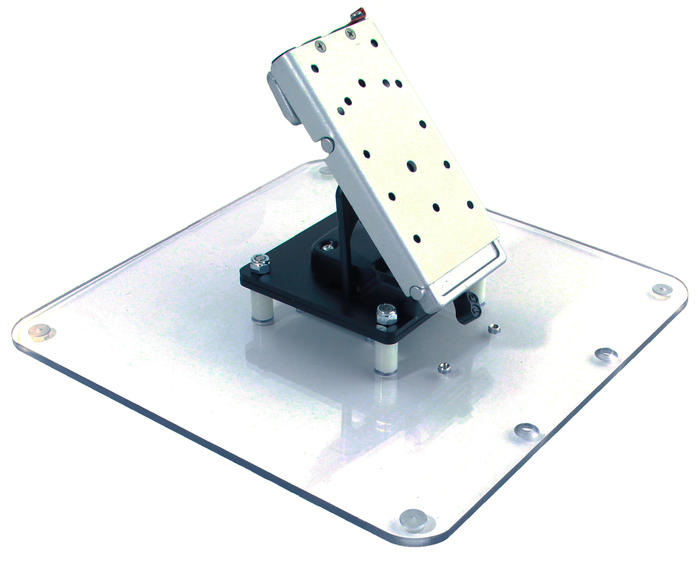 The Mount'n Tilter is the Mount'n Mover "table-top" solution that works great on any desk, in bed, on the floor or on your lap! Adjust the angle from flat to vertical.
Compatible with any BlueSky Designs Quick Release Plate, you can quickly switch out between reading, communicating, working on the computer or just having fun with your iPad.
Simple and Portable
Without the device attached:
The Mount'n Tilter folds down to just 2.5 inches tall and measures 12 x 12 across
Weighs 3 pounds
Holds devices up to 15 pounds
Tilt locks securely for direct select users
Fits in a backpack,
Use on a dinner table, the floor, your lap, and can be used in bed
Angle adjustment
Adjust to any angle between flat and completely vertical
Change your tilt quickly, anytime, without tools
To change the tilt
To Unlock: Swipe the tilt lever to the right
Tilt the device up a little*
Tilt it to the angle you'd like
To Lock: Swipe the tilt lever left to lock the tilt
* Slam-proof tilting: When you unlock the tilt for a heavy device already positioned at an angle, you may need to pull up on the device slightly to relieve its weight before it can tilt downward.
Attach any Device
Use the Mount'n Tilter with any device that mounts to our Quick Release Plate (QRP)
From communication devices, reading trays, to iPads!
Take a look at how to mount your device here: Device Attachment
Switching between activities has never been so easy! Here's a short video on changing devices
And remember, your devices are locked in using our secure RedLock
Additional Placement and Attachment Flexibility
Two sets of holes allow for three positions: forward, centered or to the rear
Spacers elevate or lower the Tilt platform
Customize it! Attach the Tilter to another tray
Adjust the Tilt from 0-180
Add an additional 90 degree tilt range to your mounted device for reclined access
Use the built-in Mount'n Mover tilt plate adjustment for fine tuning
Return it to a flat position for a clear view while driving
Add a Built-in Stand to your device!
Compatible with anything that attaches to a Mount'n Mover Quick Release Plate (QRP)
Attaches between the QRP and the Device Plate or Tray
Broad base of support and non-slip feet
Much more stable than a QRP
Use it with the device flat or locked at a 50 degree tilt
Works with non-mounted devices and trays, too!
Need a Vertical Table Stand?
To achieve a full vertical position with stability, the Mount'n Tilter is still the way to go
The 90 degree position cannot be used unless the Stand+90 is secured to a mount
Instructions
Stand + 90 Operation and Attachment Directions