| | | |
| --- | --- | --- |
| Table Clamp | Mount'n Tilter | Stand+90 |
| Attach a Mount'n Mover to a table | Table-top positioning | Built-in table stand for mounted devices |
| Use the flexibility and positioning of the mount | Angle-adjustable | 3 Settings: flat, vertical and 45 degrees |
| Great for evaluations and access assessments | Folds down compactly to carry or store | Non-slip feet |
| | Use on bed, floor, lap | Provides reclined access beyond 90 degrees for use from bed |
Table Clamp Overview
Quickly adjust tilt, height and positioning
Extends out from a table—easy wheelchair access
Conduct evaluations easily, with good positioning for speech device trials and access to computers and controls
Clamps to any desk, table or tray from 1/2" to 3"
Tool-less operation
Attach above or below table
Mount'n Tilter – Tabletop Mounting
The Mount'n Tilter is the Mount'n Mover "table-top" solution that works great on any desk, in bed, on the floor or on your lap! Adjust the angle from flat to vertical.
Compatible with any BlueSky Designs Quick Release Plate, you can quickly switch out between reading, communicating, working on the computer or just having fun with your iPad.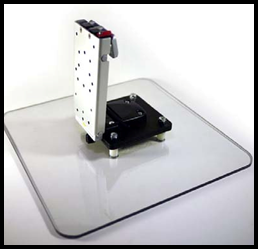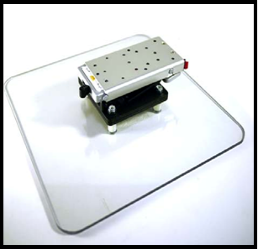 Shown with the Quick Release Plate. Tilts and locks anywhere from 0° to 90°
Simple and Portable
Without the device attached:
The Mount'n Tilter folds down to just 2.5 inches tall and measures 12 x 12 across
Weighs 3 pounds
Holds devices up to 15 pounds
Tilt locks securely for direct select users
Fits in a backpack,
Use on a dinner table, the floor, your lap, and can be used in bed
Angle Adjustment
Adjust to any angle between flat and completely vertical
Change your tilt quickly, anytime, without tools
The Stand+90 Combines Two Products in One!
Adjust the Tilt from 0-180
Add an additional 90 degree tilt range to your mounted device for reclined access
Use the built-in Mount'n Mover tilt plate adjustment for fine tuning
Return it to a flat position for a clear view while driving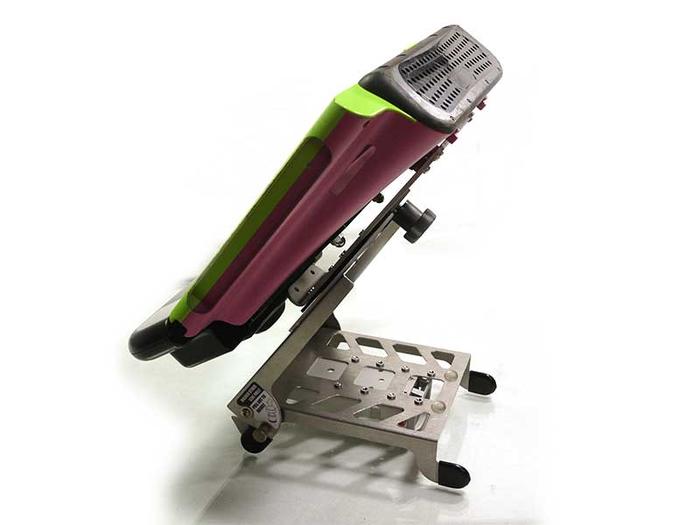 Add a Built-in Stand to your device!
Compatible with anything that attaches to a Mount'n Mover Quick Release Plate (QRP)
Attaches between the QRP and the Device Plate or Tray
Broad base of support and non-slip feet
Much more stable than a QRP
Use it with the device flat or locked at a 50 degree tilt
Works with non-mounted devices and trays, too!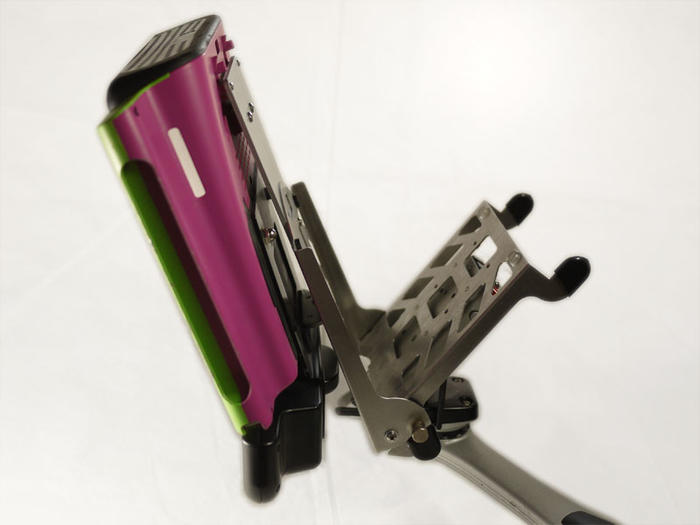 Need a Vertical Table Stand?
To achieve a full vertical position with stability, the Mount'n Tilter is still the way to go
The 90 degree position cannot be used unless the Stand+90 is secured to a mount
Select below to quote or order