Wheelchair attachment overview
Connecting to a wheelchair can be the most difficult part of setting up a mounting system. We are here to help!
Wheelchair mounting is divided into two components, as shown in this diagram.
If you cannot find your wheelchair call us!
We can mount to anything!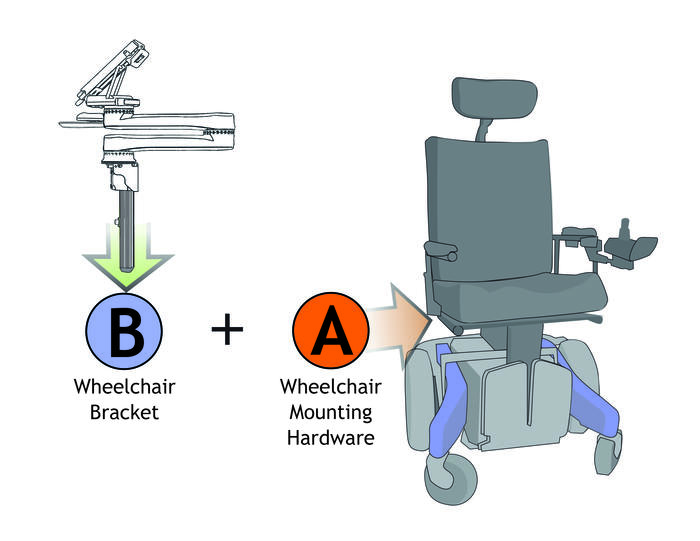 Mount Location
Determine attachment location to suit end-use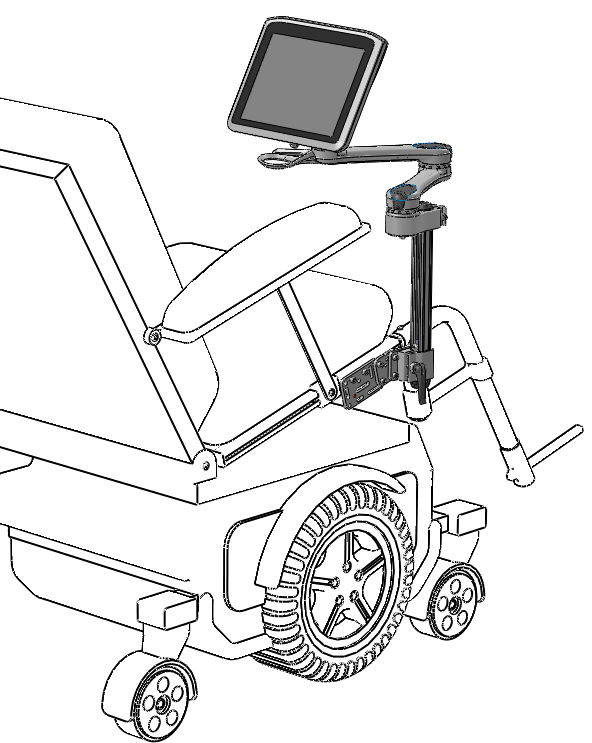 Attaching to the seat rail minimizes post length and allows users to maintain access to devices at different tilt angles.
Seat-Rail: Use if mount needs to tilt with the seat.
Example:
A speech device tilts to allow communication from any angle
---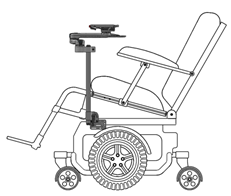 If you prefer that the mounted device does not tilt with a tilting wheelchair, attach to the sub-frame or base.
Frame-Rail: Use if mount must remain stable regardless of seat angle.
Example:
A tray for eating needn't tilt.
Mounting hardware by wheelchair type
Check out our mounting options list, where we have mounting guides for many wheelchairs, walkers and more. If you cannot find your wheelchair call us! We can mount to anything!
We also have generic guides for various frame types, listed in the Mounting Guides menu.
Offsets and extensions
Mounting to a wheelchair can sometimes be tricky. There will be situations where you are struggling for real estate on the wheelchair, and every wheelchair is different.
To get around many obstacles to proper mounting, we have options for extending the wheelchair bracket position. Consider things like trays, brakes, armrests and the like.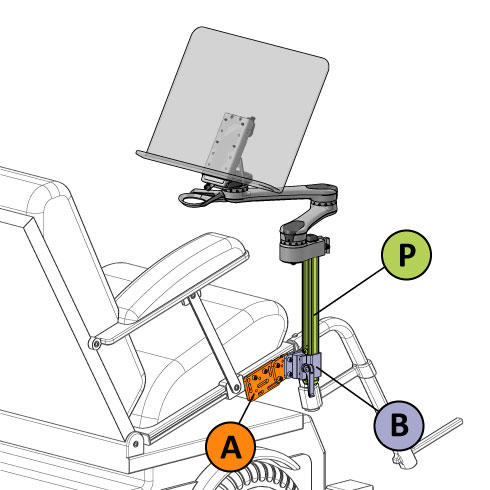 The wheelchair bracket connects the Mount'n Mover and Post to the wheelchair. Slide the post into the wheelchair bracket, and clamp it with the quick-release lever.
The wheelchair bracket is fixed to the wheelchair using bracket attachment hardware
VIDEO: How to insert the post
For best results, the post should be mounted as close to vertical as possible.
This makes it easier for a person to move independently
The device is kept at the same height and tilt, no matter where it is moved.
The choice of a Solid Wheelchair Bracket (WB2), a Solid Wheelchair Bracket with an Angle Adjust Plate (WC-AAP) or an Adjustable Wheelchair Bracket (WB) is determined by:
primary-use angle of the user's wheelchair seat frame
attaching to an angled frame component
Strategic positioning and orientation of the Wheelchair Bracket, either alone or combined with other plates can help avoid obstacles, or move the post further forward.
Solid Wheelchair Bracket (WB2)

Solid Wheelchair Bracket with Angle Adjust Plate
(WB2 + WC-AAP)

Adjustable Wheelchair Bracket (WB)

Technical specifications:

If the wheelchair seat is normally level, we recommend using this option
The Solid Wheelchair Bracket has a more compact profile
The Solid Wheelchair Bracket can be mounted in two orientations
The Solid Wheelchair Bracket has minimum play
This is the most cost effective solution

Technical specifications:

Best of both worlds! Rigid mounting with angle adjustment
Optimal mounting may require an angled hardware attachment - Compensate for that angle using the WC-AAP.
Only adds 1/4" to the width of the WB2
The pair allows you to adjust every 7.5°

Technical specifications:

If positioning requires constant angle adjustment, we recommend using this option
The Adjustable Wheelchair Bracket has a slightly larger profile
Angle adjustment allows for an "offset" mount that may help with avoiding obstacles.
The bracket locks every 5°
Note: When used with longer posts and heavier devices, there can be some play in the system

The Solid Wheelchair Bracket can be reconfigured to two positions:

This combination can rotate every 7.5°:

The adjustable wheelchair bracket locks every 5°: