Wheelchair Mounts for AAC, Phones, Tablets & Laptops
Mount'n Mover mounting systems are customizable and compatible with iPads and other tablets, laptops, cell phones, AAC devices (including speech devices and eye gaze), and more. Our mounting systems attach to wheelchairs, beds, tables, and floor stands.
Mount'n Mover mounts adapt to your needs. People can customize their device to lock in specific memory positions but can move it easily to do other things. You can change devices in seconds and move it to other positions, for that device.
Other wheelchair mounting systems place one device in one position, allowing a person to do one thing. They help you do that one thing but can get in the way of doing anything else.
Our products and team are flexible. We can mount to anything! Check out our mounts below and find the one that's right for you. Questions? Call us at (888) 724-7002.
For technical support about mounting your Mount'n Mover, visit our Wheelchair Mounting Options page.
Simple Mounts: Wheelchair Phone Mounts for iPhone & iPad
Wheelchair cell phone and tablet mounts a person can move. Adjust the tilt and swivel. Stable for use.
Great for phones, remotes, iPads, tablets, small speech devices, mice, switches & more.
Simple Mount Small is ideal for an iPhone or cell phone. Attach with Velcro, magnets or plastic lips.
Simple Mount Large is 9" x 11.5". Use it for phones, mice, remotes, tablets or your arm.
For two devices, use two mounts.
Attaches to wheelchair, table or bed with appropriate hardware.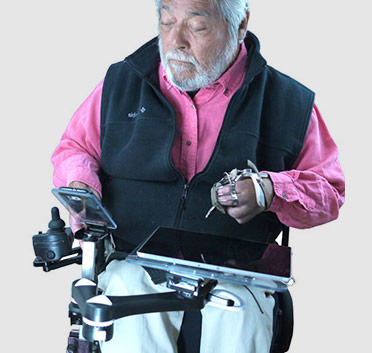 Rick uses a Dual Arm to mount his tablet and the Simple Mount with a Small Tray to hold his phone. This provides him dual access to his mobile devices.
Easy Movers: Wheelchair Mounts for Laptops, Macbooks and Tablets
Ideally positions tablets, laptop, keyboard, and mouse for optimal comfort and positioning
Joints can be adjusted from high resistance (requires more strength to move) to low resistance (requires less effort to move)
Holds up to 10 lbs
Available in Single Arm and Dual Arm versions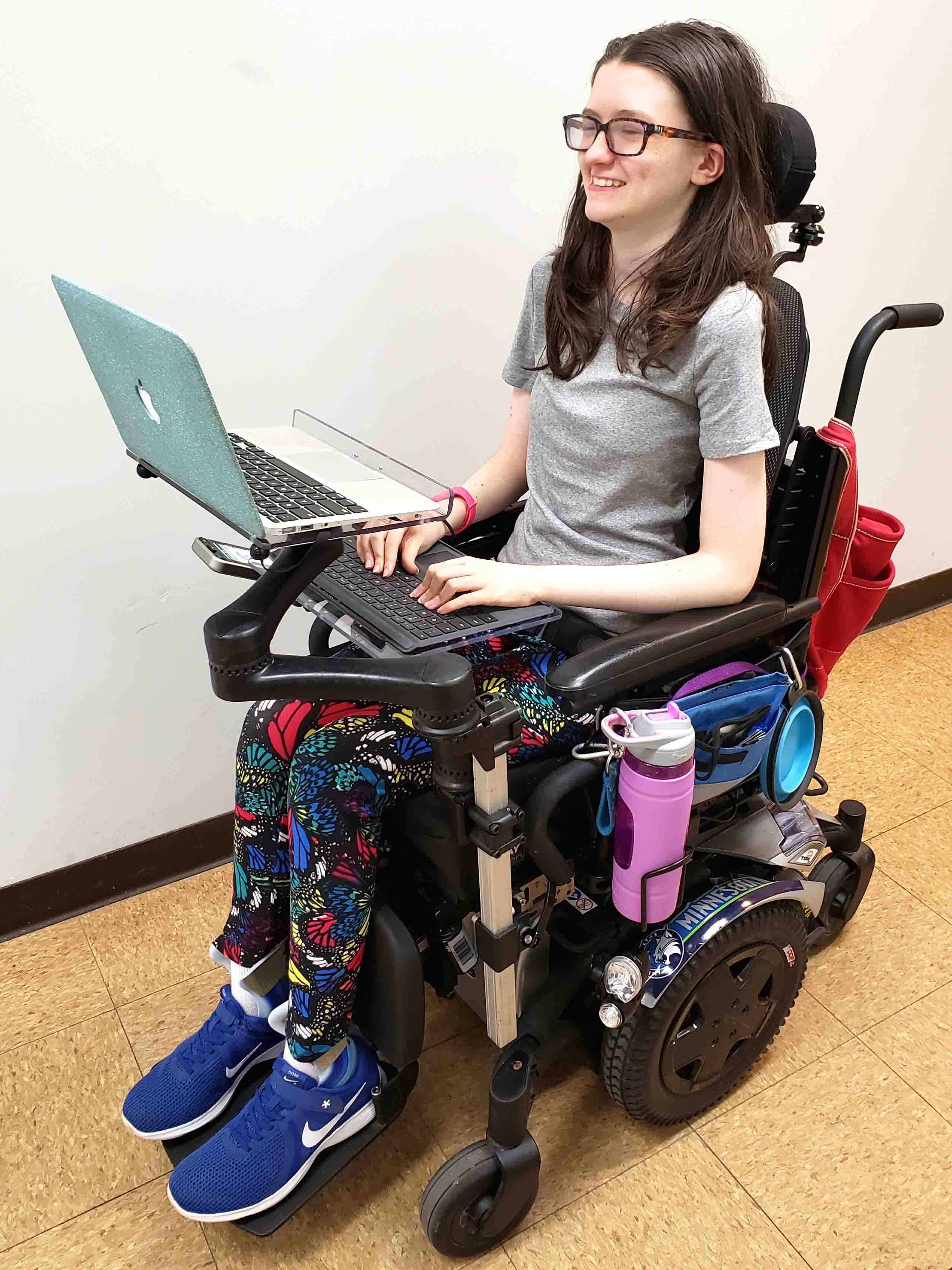 Linae uses Dual Arm and Single Arm Easy Movers to keep her laptop, keyboard and mouse n an optimal position for access. By positioning her laptop higher she experiences less strain on her neck and trunk.
Mount'n Mover: Locking Wheelchair Mounts, Use One or More!
Multi-task: position and secure multiple devices
Locking dual arms provide flexible, optimum and secure placement in memory positions
Easy to access controls unlock the arms to move them easily
Laptop tray can have "swing away" for phone, mouse or other device
Two mounts can be mounted on a single post with one attachment point on the wheelchair
See more examples on our Double Decker page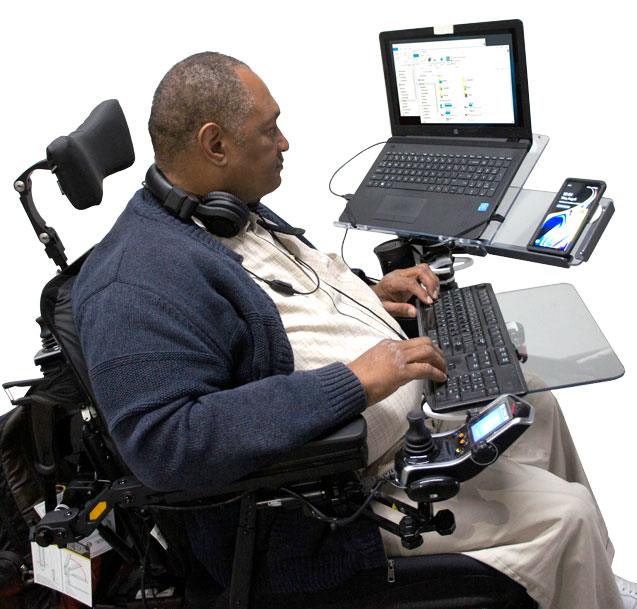 Michael uses two dual arm Mount'n Movers to access his keyboard and laptop. The locking dual arms provide optimum and secure positioning. The laptop tray has a "swing away" for his phone and the keyboard tray is lower for comfort. Both Mount'n Mover arms are mounted on one post with one attachment point on the wheelchair.
As a college student, Nicole needs to multitask—reading, writing, using a laptop and of course, eating. She can do it all more easily now. She uses a Tilt'n Turner and a Dual Arm Mount'n Mover to use her laptop and read at the same time. She can adjust and change the trays depending on her needs.
"It's so much easier and more cost-effective than going around and trying to adapt all of her classrooms. She's got what she needs with her, no matter where she is." -- Karl, Nicole's father
Wheelchair Mounts for Communication Devices
Attach any device with ease, including eye gaze and other AAC devices
Tilt for ideal positioning and comfort
Swap devices quickly
Find the device plate that's right for your device.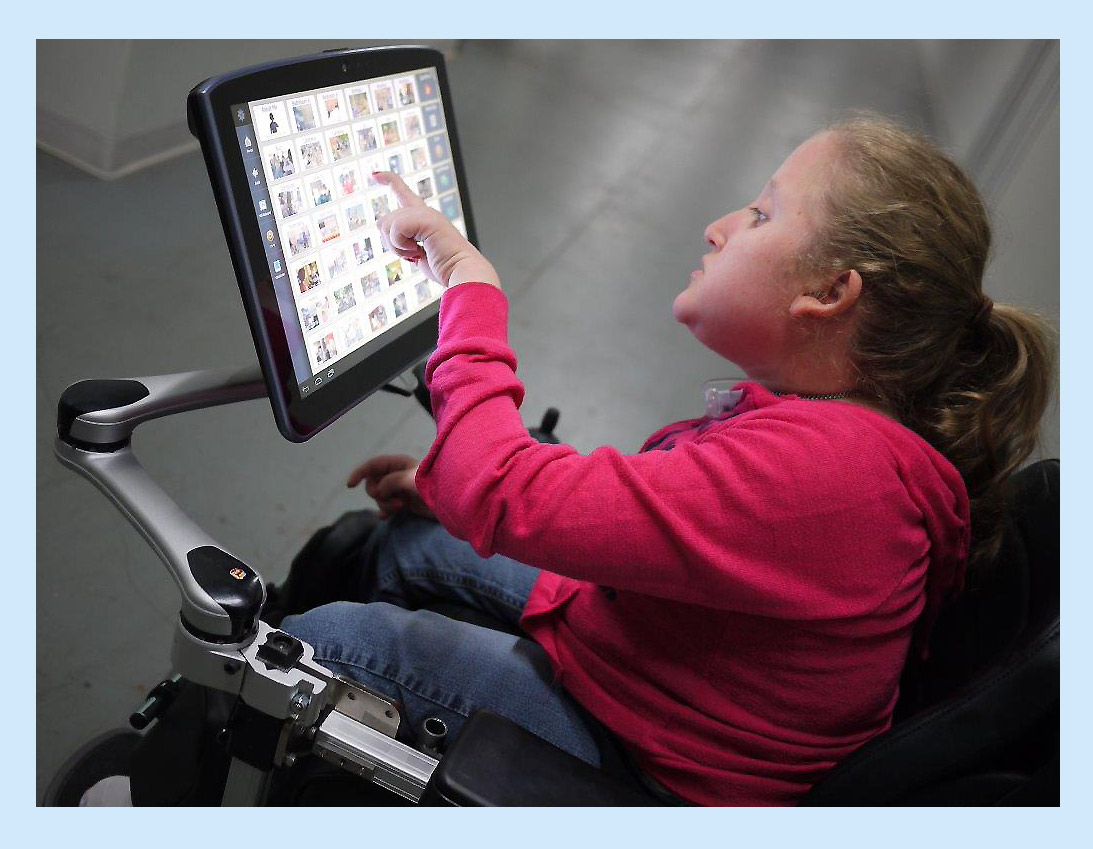 Tana wanted continuous access to her communication device while in her standing wheelchair. At school the device would stay in her backpack and only come out when she was in class. It is now completely accessible and is easily repositioned independently.
"The Mount'n Mover provides more opportunities for Tana to interact with friends, teachers and the outside world. It is wonderful" -- Jill, Tana's mother
Eye Gaze Wheelchair Mount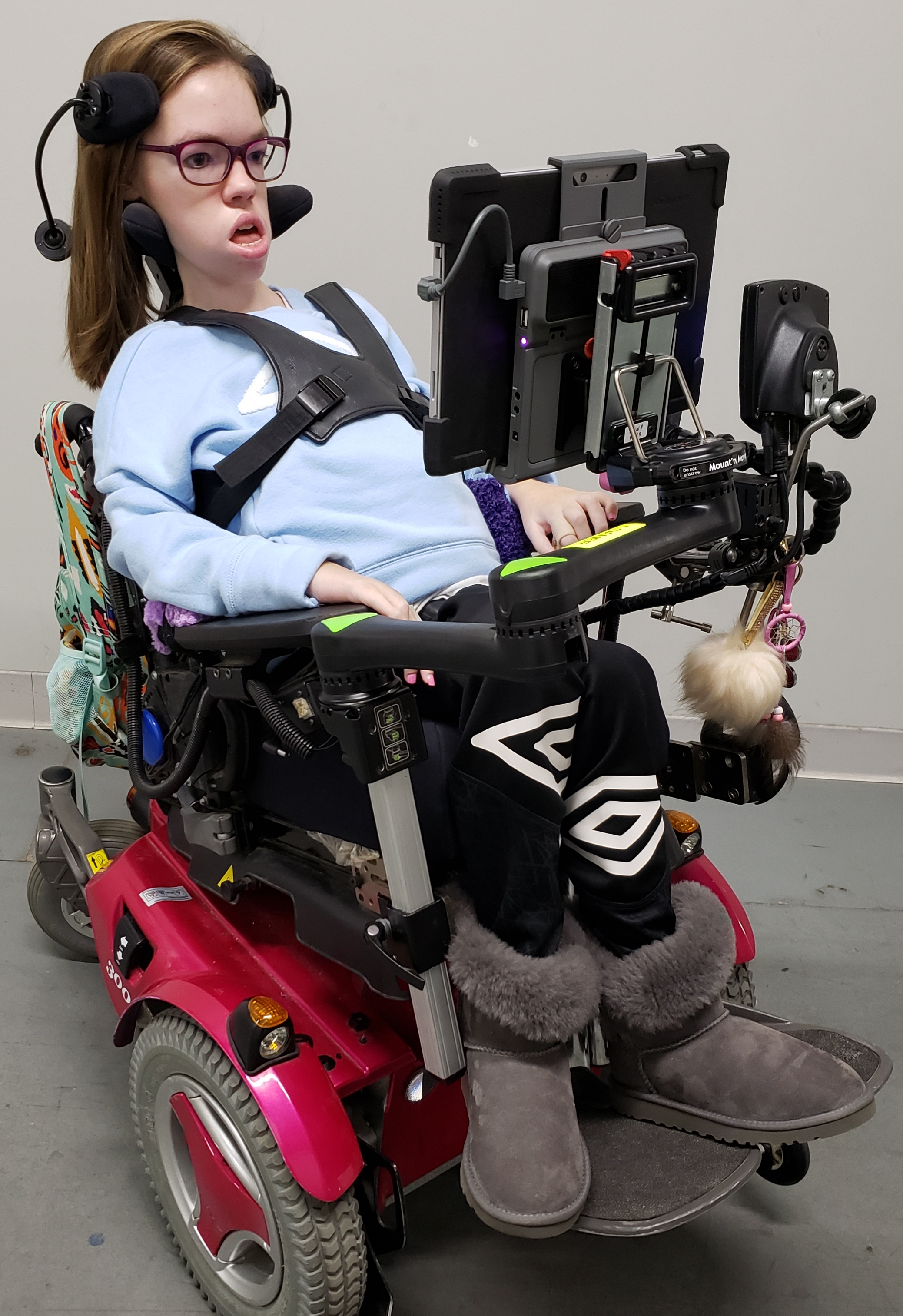 Mary Kate and her family love the simplicity of the Easy Mover with the locking tilt. Caregivers like it too!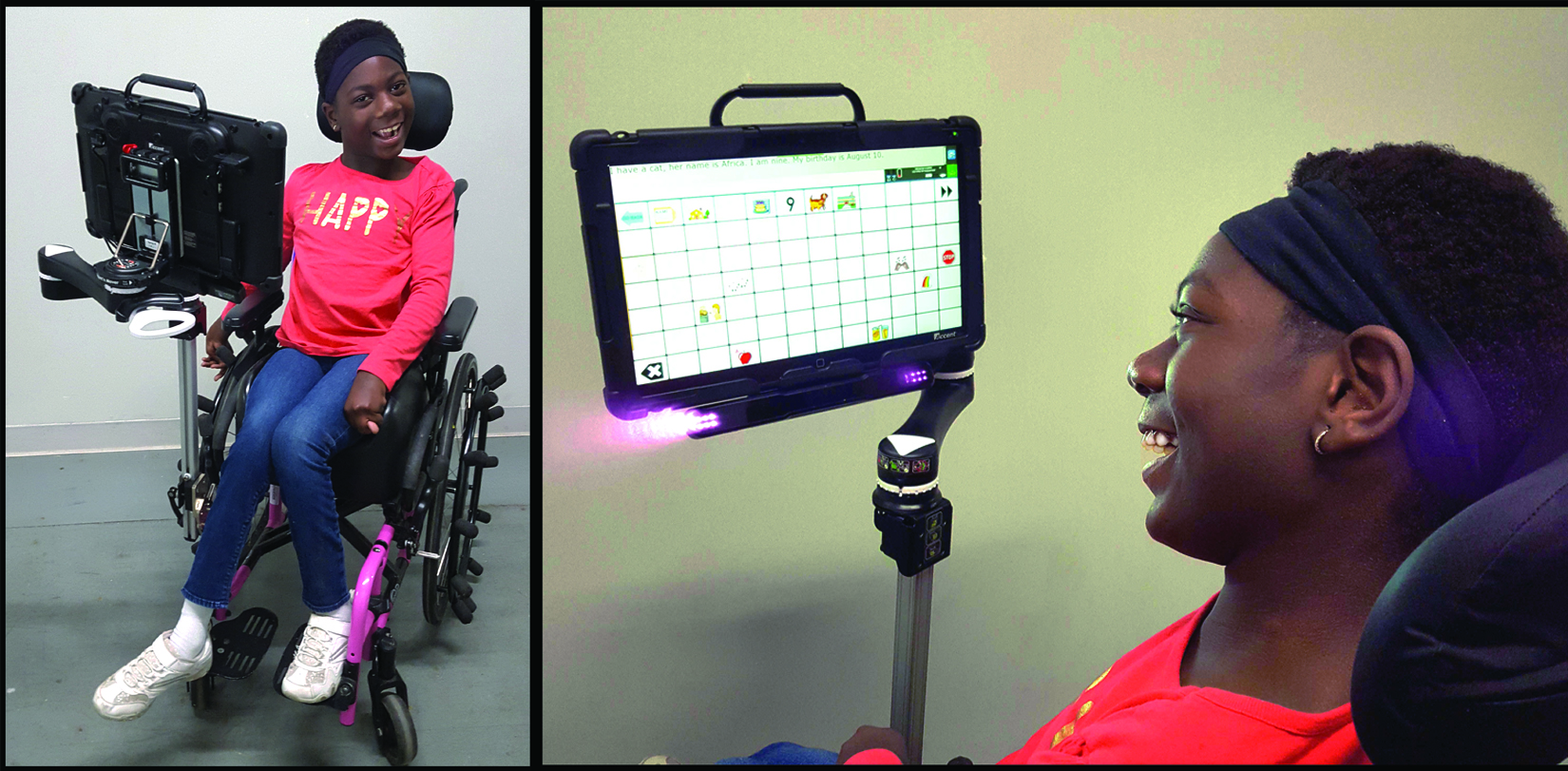 "Brylee LOVES her new mount! It's amazingly user friendly. The precise positioning capabilities are fantastic and the fact that her ideal position can be "locked in", and easily returned to, is super helpful. Her speech device has given her a voice and the Mount'n Mover has made it easy for her to use it everywhere she goes! In addition to a wonderful product, the customer service has been beyond our expectations. We're so thankful for the team at BlueSky Designs!" -- Michelle, Brylee's Mom
Wheelchair Mount for Tobii Dynavox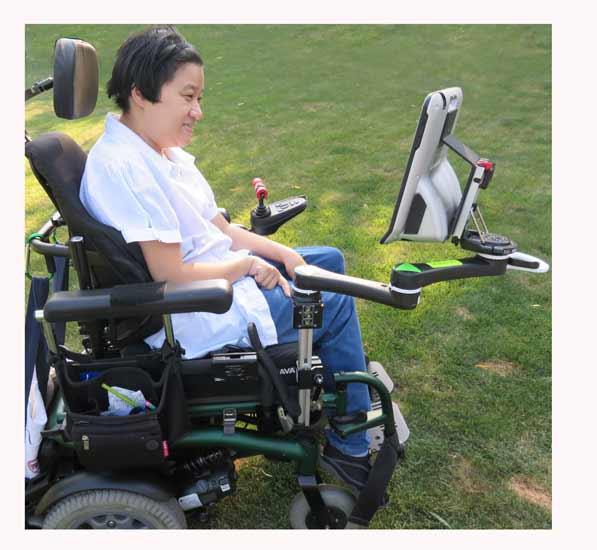 "It's no big secret that I have been opposed to using communication devices pretty much my whole life—that is, until now. My cerebral palsy affects my speech and mobility, but not my spirit. Although it is difficult for many people to understand my speech, especially before getting to know me, I preferred repeating myself a few times over using a communication device because that was more efficient. There wasn't a communication device that matched my comprehensive vocabulary and my slow typing speed made the process too slow." -- Esther Lee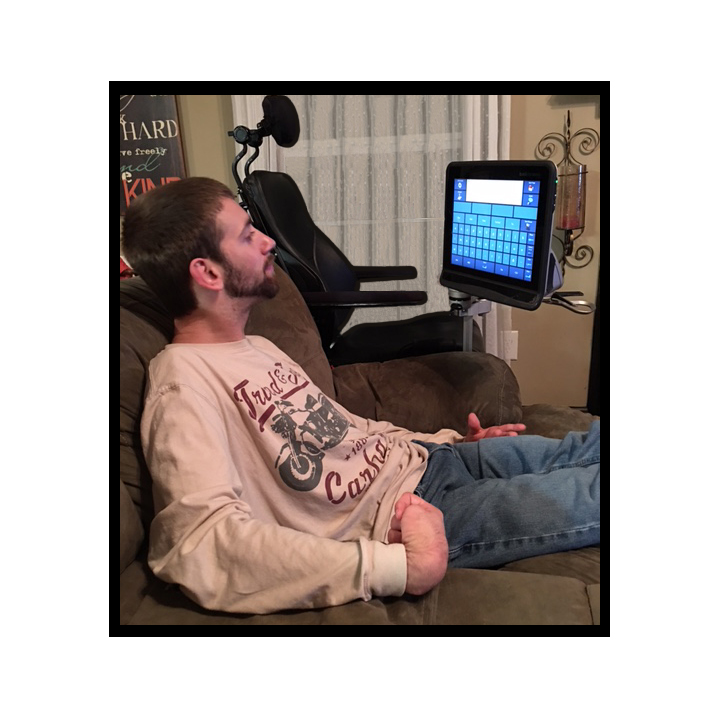 Ryan strategically parks his wheelchair next to his easy chair to access his Tobii Dynavox via eye gaze so he can still use his device to communicate when relaxing with friends or watching TV.
"The Mount'n Mover is such an important tool in my everyday life." -- Ryan Carter
Floor Stand for Speech Devices, Tablets, Laptops
Positions devices anywhere from six inches to six feet off the floor
Remove your Mount'n Mover wheelchair mount from your wheelchair or table mount and insert it into the Floor Stand
It takes seconds to attach your Mount'n Mover mount; no tools required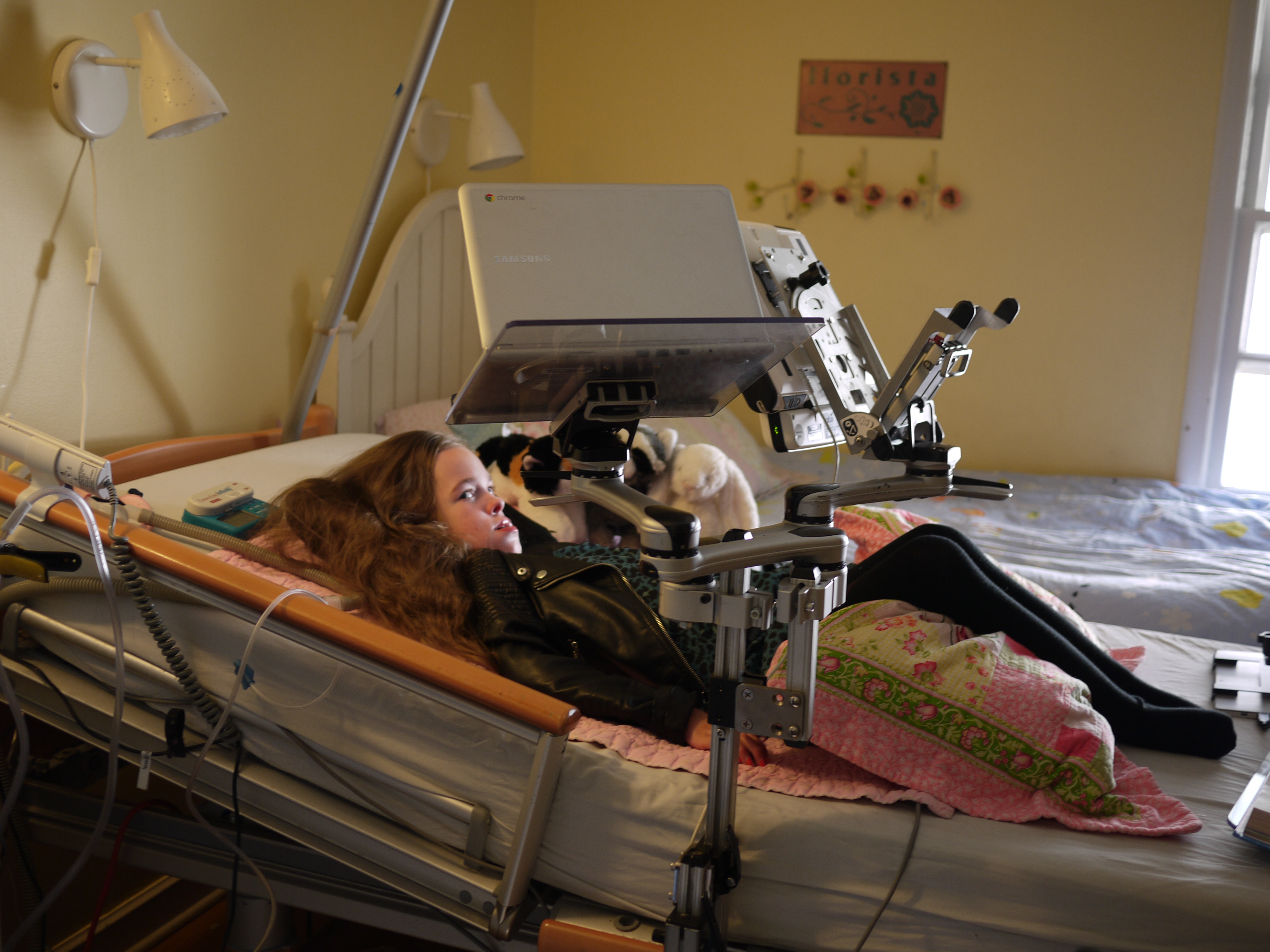 Wheelchair Table Mount Options
Mount'n Tilter table-top mount works on any desk, in bed, on the floor or in your lap
Switch out between reading, communicating, working on your computer or just having fun with your iPad
Adjust the angle from flat to vertical
Our "Stand+90" is ideal for eye gaze access from a bed or acts as an adjustable table stand for your device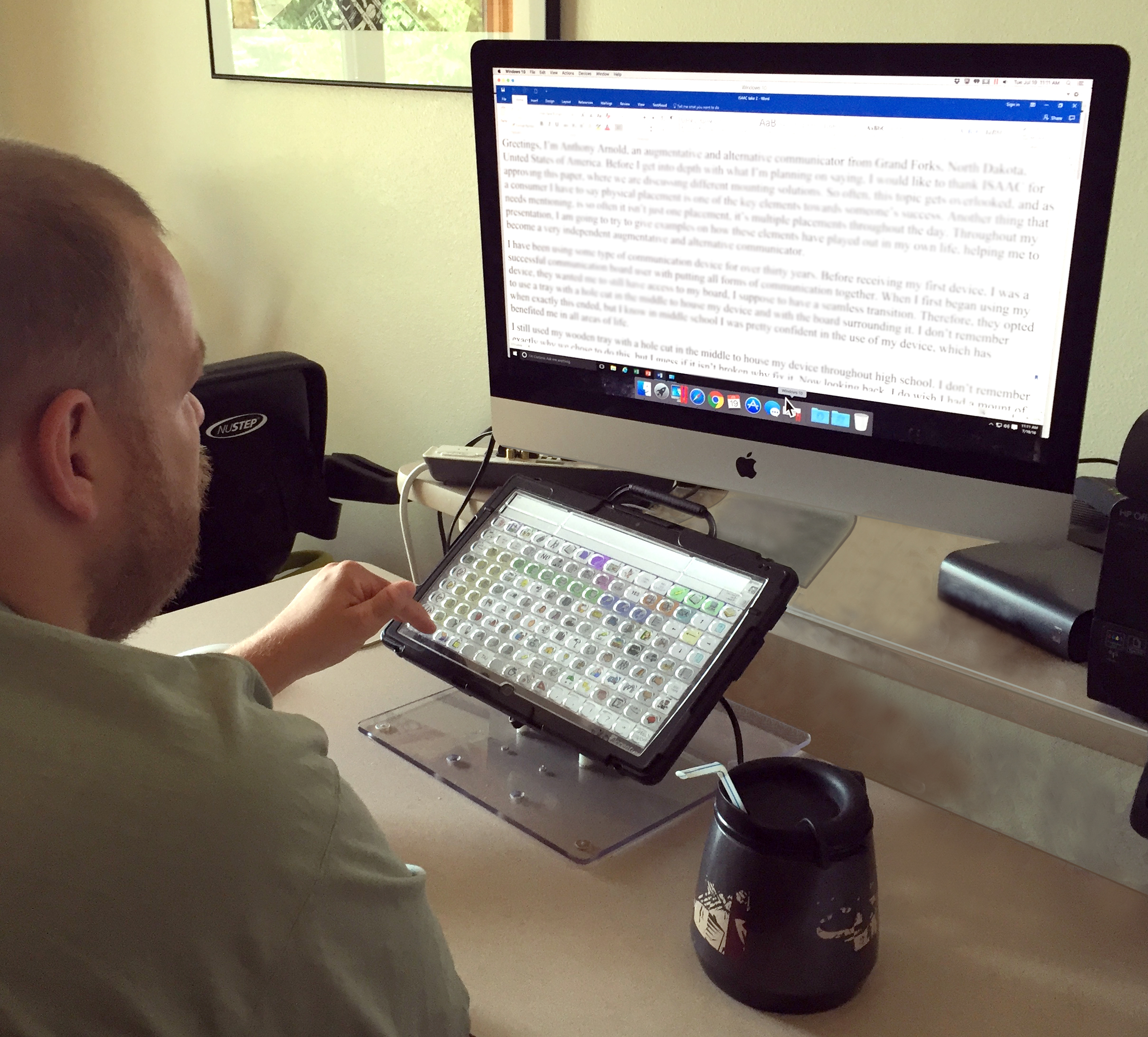 Anthony has his speech device attached to his wheelchair. In his role as a technical support specialist for a speech device company, he needs access to several speech generating devices for his job. He moves his device to the side, uses the Mount'n Tilter at his desk to assist him when doing his tech support with customers and is able to swap out different devices independently. The Mount'n Tilter provides a simple, yet secure mounting solution when at his desk.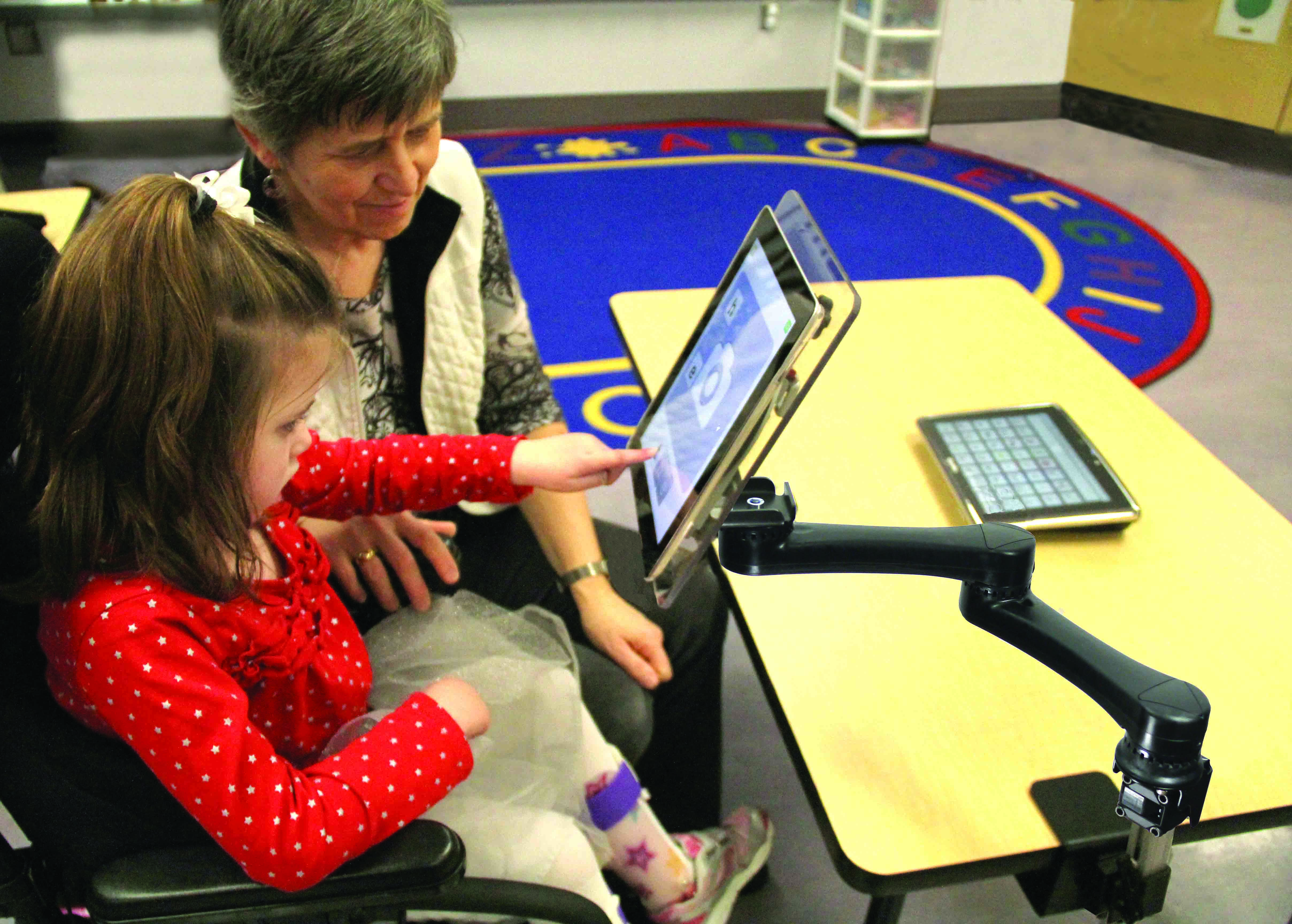 This teacher was pleased with her student's improved ability to access an ipad when using the mount on a table. "Her head positioning and sitting posture improved, and so did her ability to access the iPad!"
Questions?
We're here to help. Call us at (888) 724-7002.