Bob Gregory, Advocate Camper
"My favorite was the Northwest Territories in Canada. It was beautiful. One evening a herd of Caribou came through our campsite. I think a zipper broke on a tent."
When you get to know Bob, two things become apparent: Bob has a mischievous sense of humor and big heart, and he loves sharing both with the world.
Upon entering his home you might be challenged to Karate (in which he has a black belt) or joked with, but ultimately the request always comes up. "How can I help?"
Bob loves life and he loves to advocate.
He won the first ever REI stewardship award. Being nearly overrun by caribou on one of his 47+ Wilderness Inquiry trips did nothing to deter him from advocating for Wilderness Inquiry through preservation letter-writing campaigns, cleaning tents and stuffing envelopes.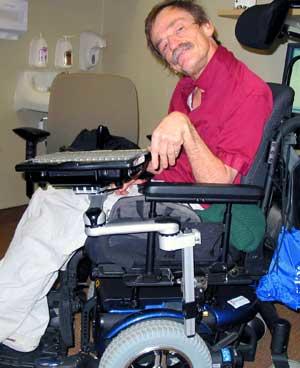 "Not only is Bob Gregory living proof that wilderness need not be compromised to be accessible to people with disabilities, but he also serves as an inspiration to people of all abilities who dream of experiencing the outdoors," said Barb Eytinge, manager of REI's Bloomington store at the 2003 award ceremony. "He's a daily reminder that it is not a person's ability that dictates their enjoyment of life, but their attitude."
Bob's extensive track—or trail—record with Wilderness Inquiry includes places like Isle Royale National Park and Ontario's White Otter Wilderness and includes at least four dog-sledding trips. The organization creates accessible inclusive outdoor adventures for hundreds of people with and without disabilities annually.
Bob has also spent time traveling as a speaker for different organizations such as "Speak Out" and "Kid Talk" that spread awareness and understanding concerning people with disabilities.
Because Bob has Cerebral Palsy, he communicates through use of a speech device secured by a Dual Arm Mount'n Mover. "You could say the mount holds my voice," Bob said, "I love the feeling of speaking before the legislature and telling my doctor how I feel."
In keeping with his work to make life and technology better for others, he participated in a focus group for BlueSky Designs to provide input for what became the Mount'n Mover. He served as a product tester before acquiring the final product and continues to test the latest upgrades for BlueSky Designs.
"I really liked it because I can move it in more directions. I can move it to the side." Bob said gleefully, "With this mount, I can eat and talk at the same time!"
Bob's earlier mount proved unsuitable for his social life—he could move it out of the way at dinner, but no longer had access to use it, so he couldn't talk.
His favorite foods include "baked potatoes with sour cream hamburgers on the grill in crispy skin." Bob says with relish. "Everyone says all kinds of food are bad for you so should we just stop eating it?"
It's clear how Bob stays in shape with that diet when looking at his numerous karate trophies.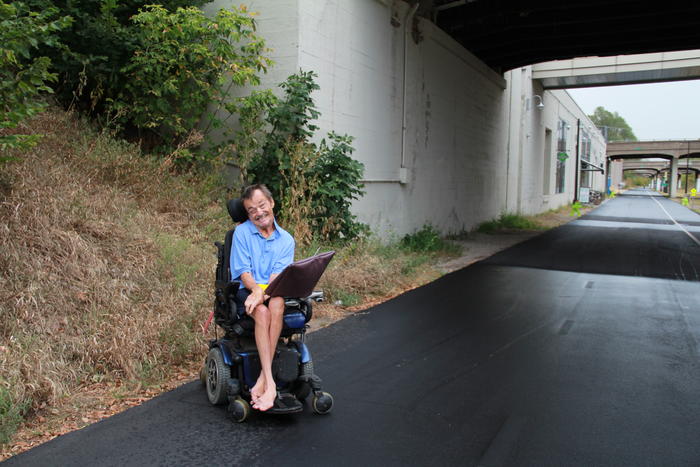 "I am leading a good life," Bob said.
Bob doesn't only spend time in the wilderness. As part of "Speak Out" he traveled to Hawaii. He spoke to all kinds of people about having disabilities. "We got paid but the money wasn't important. I felt we were advocating for people with disabilities." Bob said.
Bob would speak to classrooms about what it's like living with disabilities while working for the "Kid Talk" program. The most frequently asked question was, "how do you go to the bathroom?' One day Bob spoke to three classes and the question came up in every single one. Bob shared the experience, laughing at the memory.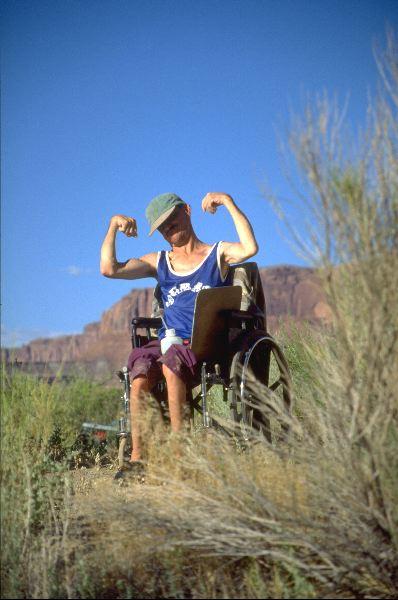 Education and outreach happens everywhere for Bob: he's a rolling ambassador for people with disabilities; a former UCP board member; he even spread awareness during his time with a square dancing group called "Perfect Squares." They traveled all over for the dances including Memphis TN.
Born and raised near the small town of Kimbal MN, Bob says he feels his world getting smaller. To escape a shrinking world, you can often find Bob cruising the Midtown Greenway in Minneapolis, enjoying nature.
"The Greenway is my freedom," Bob says. He grins as he rolls out on the asphalt. The Greenway bike trail runs by BlueSky Designs. After a recent visit to BlueSky, Bob headed home on the Greenway. Other outdoor activities include fishing for bullheads.
When exploring his more cosmopolitan side, Bob enjoys theater and has held season ticket to the Guthrie. "Romeo & Juliet" is one of his favorites.
"Life is a smorgasbord because on the table there are a lot of choices in life and we don't know if we are making the right choices when we want to try something," - Bob
He is living proof of what can be achieved when you continue to try new things.
Videos