Jon Feucht, Camp Director
"[I] helped so many people learn how beautiful communication is, made people laugh constantly and fell in love with the joy that comes from doing something meaningful with life." –The Tan Car
The executive director of Authentic Voices of America has built a career out of filling people with hope through enabling communication.
"To teach people to say hello to somebody or to show them how to tell their parents they loved them is something amazing."
In 2001, Jon Feucht founded the AVA summer camp for young Augmentative Alternative Communication device users. The goal was for people with severe expressive speech disorders to learn effective ways to get the most out of their devices while hanging out and having fun.
Campers participated in plays, dance-offs and conversations during meals. Laughter and fun are key components of the program. "My job is to teach people how to use communication to get ahead in life," Jon said.
The three things the camp focuses on are Straight Talks which are lectures from Jon to the campers, getting the campers working together and communicating with one another and providing new experiences.
Inspiration for the program came from Jon's internship at Temple University in Philadelphia where he spent two weeks teaching disabled people how to communicate with communication devices.
"It was there that my fingers learned what the meaning of their life would be; they were meant to do this work." Jon said in his book The Tan Car.
Jon's own experience growing up with Cerebral Palsy helped him understand the frustrations of communication as well as the liberation that comes with learning to really use an AAC.
Jon used a communication board for years before college taught him the necessity for a more sophisticated communication device. A profound sense of empowerment came from the improved communication access. Jon graduated with a major in psychology and minor in English.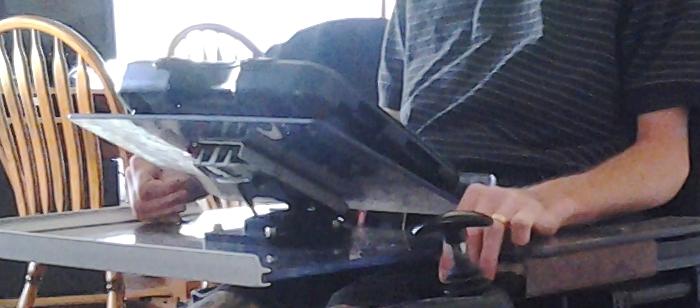 Jon was interested in securing his Liberator to further augment his ease of communication but nothing worked. As a result Jon spent 25 years communicating with no secure mount until he discovered the Mount'n Tilter, "I have a very demanding life; if something is not 100% comfortable I either make it work or don't use it."
By securing the Mount'n Tilter directly to his lap tray, the communication device is at the perfect location for ease of use, "I'm very particular." He can also easily remove the tray and device assembly for transfers or as required, "it was exactly what I was envisioning."
Dianne Goodwin, founder of BlueSky Designs, the company that designed and manufactures the Mount'n Mover said "Jon looked at our components and put them together in a totally unique way. He is a creative and visionary man—he understands the needs of himself and others, and can envision and realize the possibilities."
Jon isn't slowing down anytime soon, he's heading back to college for his doctorate in education because he feels he needs to do more with his life.
"I want to study how to improve education for people with disabilities," Jon said. Education comes naturally to the camp director.
One year a camper was unable to communicate through the device she brought. Jon's wife, Sarah, brought the girl to Jon for advice. "I saw she could hit the switch with her knee and by the following day she was communicating," Jon said, tearing up at the memory.
"Like doctor Martin Luther King, I have a dream. Like his dream, mine is simple but will take decades to achieve fully. My dream is to accept communication device users into mainstream America completely so that they can work where they want to work, live where they want to live and perhaps most importantly, to let them lead the lives that they want to develop for themselves." -Excerpt of Jon's speech as the AAC institute's Edwin and Esther Prentke AAC Distinguished Lecturer in 2003.
A few life events to date:
Bachelor of Psychology at U of Wisconsin
MSE of Special Ed from U of WI Whitewater
Preparing to earn his doctorate in Education
Founder and Executive Director of Authentic Voices of America
Two books published, The Tan Car and Straight Talks
Honored by the American Speech-Language-Hearing Association ASHA
2003 AAC institute Edwin and Esther Prentke AAC Distinguished Lecturer
Jon passionately advocates for people to communicate to their full potential with mainstream America, not just to a parent or caregiver. He says there is so much more to life and communication than just expressing needs.
"Why do we act like our work is done when we get somebody communicating effectively? Our work is not done at that point; it's just beginning. It's like finding a penny on the ground and thinking that you are set for life. Do we celebrate every time able-bodied people talk? Of course not, that is a part of every day life." –Excerpt 2003 AAC Distinguished Lecturer
When Jon is not working or advocating for a more communication accessible America, he can be found spending quality time with his wife Sarah or fishing at his favorite lake for "whatever bites."