Kevin Williams, Web Developer
"This mount is the best investment I made in a long time. It has surpassed just a mount for my communication device, and become truly a device essential to my daily living"
This quote coming from a man as active and particular as Kevin Williams is saying a lot: Kevin is an avid power soccer player, water skier, disability advocate, web developer, theater performer, techno-geek and assistive technology enthusiast who also happens to have Cerebral Palsy.
Kevin uses his Mount'n Mover for his a Laptop, Vantage Lite speech device, eating tray, camcorder and camera and then some:
Transporting and using Communication Device (tray)
Transporting and using electronic devices such as Laptop, phone, and tablet.
Transporting and consuming food independently around home and in places where an accessible surface is not available.
Collaborating and speaking with friends, clients, and service people in a more natural way when having a personal conversation through one of my devices.
Taking photographs independently with angles that he can change quickly to give a more accurate visual account of his perspective in a moment of time.
"Living in the information age, it has become increasingly important for people not just to describe their perspective with words, but show it through pictures and video with mobile devices that can be taken anywhere."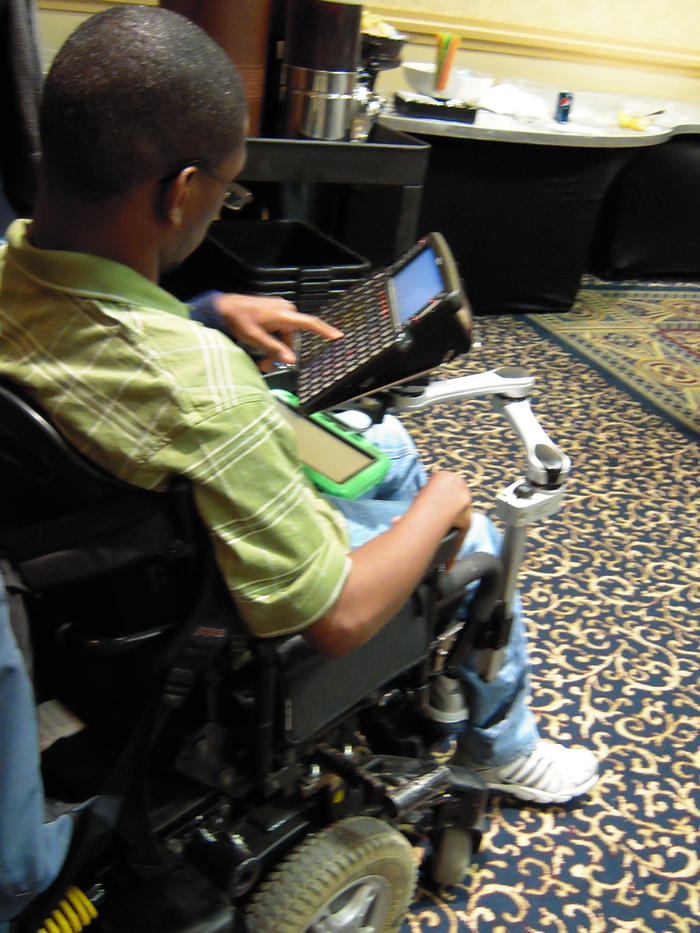 His mount plays an active role for both his work as well as play but his mount used to get in the way.
"My old system was moved by flipping the device away instead of swinging. It was hard to do independently, and with bigger and heavier devices…the device would often separate from the mount and hit the floor if I wasn't absolutely careful," Kevin reports, "The mounting system wasn't a perfect solution for my needs in my active and adventurous life."
The mounts would break down with Kevin's everyday use. He had to replace some parts due to "transferring in and out of my wheelchair, the jostling the mount takes with hitting cracks in the sidewalks and going over curbs at crosswalks, and flipping the device out of the way to eat or use the computer."
Kevin first saw the Mount'n Mover System at a RESNA conference. "I liked that it was geared for active and independent people like me," Kevin said. As with any new technology in his life, Kevin took pains to inspect it "inside and out."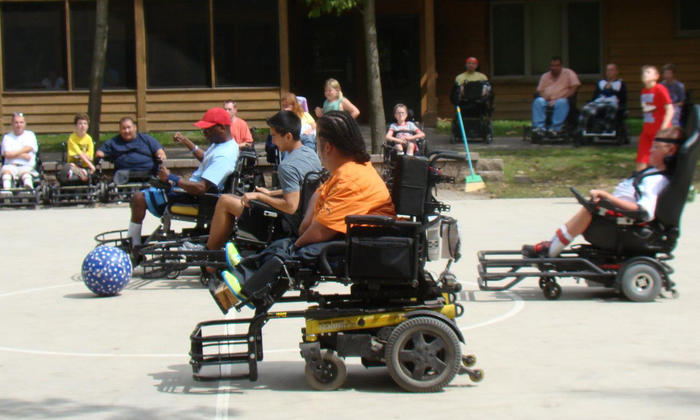 "In typical 'Kevin' fashion, I drilled the MnM team with questions about durability and customized mounting plates for attaching odd items like an air rifle. I was impressed with the passion for their product and finding a solution for just about anything I can think of mounting on my chair."
A few weeks later Kevin received his new Mount'n Mover and hasn't looked back, "Mounting arm technology has been so stagnant…but the Mount'n Mover opened my eyes to what I'd been missing."
Kevin's Review Excerpt
Mount'n Mover allows me to have the freedom to use multiple things in a safe and stable way with my power chair. It also allows me to swing it out the way independently for transferring without worry of my equipment falling and getting damage from hitting the ground.
An unforeseen bonus of the Mount'n Mover is that I have been able to express myself more effectively through repositioning my communication device in situations where using voice output is not feasible.
Dianne, BlueSky Designs President, saw Kevin take advantage of this at a PEC conference. The first day Kevin used the Mount'n Mover, she saw him compose a message during a session and rotate it so the person he was sitting next to could see his message, without using his voice and interrupting the speaker.
The Mount'n Mover, with its simple and sturdy design, steadily holds many different objects throughout my daily activities with affordable attachment accessories. It has surpassed just a mount for my communication device, and become truly a device essential to my daily living.
A Cost-effective Solution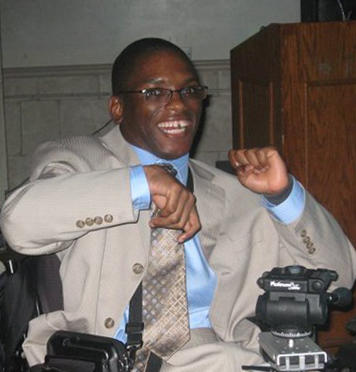 As someone born with Cerebral Palsy, Kevin has changed through four wheelchairs and a walker. Before the Mount'n Mover, he had to purchase, install and learn an entirely new mounting system for each because of the rigidity and inflexibility of his old system. As this happens once every 5-10 years, Kevin is ecstatic that with the Mount'n Mover he can keep the mount and just replace the wheelchair attachment hardware as needed. "Over time as a person's needs change it is cheaper and easier to adapt the Mount'n Mover to the new requirements, rather than buying all new hardware for a position change."
We love that Kevin has found so many secondary and tertiary benefits from using his Mount'n Mover but even we didn't expect the icing on the cake: Theatre
"Along with using the Mount'n Mover to communicate, cook, work, and take photographs, I performed in a stage play presented at the 2011 Pittsburgh Employment Conference and the 2012 ISAAC conference where the Mount'n Mover played a key role in how I interacted with the other actors in the show."
"I use my experiences, interests and skills to take advantage of all that life offers and to motivate others in sharing their abilities with the world. The Mount'n Mover with its simple and sturdy design steadily holds many different objects throughout my daily activities with affordable attachment accessories. It has surpassed just a mount for my communication device, and become truly a device essential to my daily living."
To learn more about Kevin's business, check out his website and blog at: llslim.com