NCIS: Mount'n Mover Lands Recurring Role with Daryl Mitchell on NCIS New Orleans
The Mount'n Mover mounting system has gone Hollywood!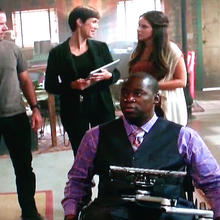 NCIS New Orleans recently added Daryl Mitchell as the recurring character of Patton Plame, a computer security analyst for NCIS.
Daryl is a successful actor who uses a wheelchair as a result of a spinal cord injury. He uses the mount to hold his tablet in an optimal position for access, so he can do his job. We commend CBS for focusing on the abilities of this c
haracter and not the disabilities.
BlueSky Designs manufactures the Mount'n Mover - an independently movable and customizable mounting system. This powerful mount offers flexible, yet secure positioning of iPads, tablets, phones, speech devices, laptops, cameras, eating and reading trays - on tables, wheelchairs or floor stands.