Nicole Carstens, A Double Decker Student Solution
As a college student Nicole needs to multitask—reading, writing, using a laptop and of course, eating. She can do it all more easily now. She uses a Tilt'n Turner and a Dual Arm Mount'n Mover to use her laptop and read at the same time. She can adjust and change the trays depending on her needs.
"It's so much easier and more cost-effective than going around and trying to adapt all of her classrooms," says her father Karl. "She's got what she needs with her, no matter where she is."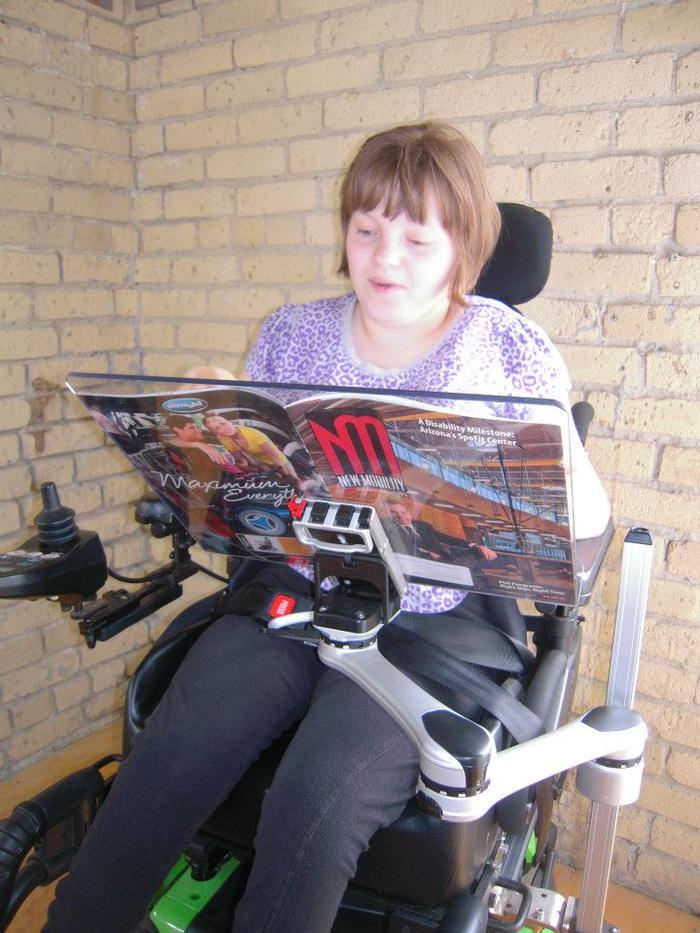 "My name is Nicole and I have a disability called Cerebral Palsy. I am currently enrolled at North Hennepin Community college.
"The Mount'n Mover mounting system makes it easier to read books and write papers because the tray is adjusted to the height that makes it easier for me to reach the objects that are on the tray. The angle adjustable tray makes it easier because you do not have to bend over to read or write.
"The laptop tray makes it easier to complete school work on the laptop because the laptop is strapped to the tray so it will not move while I am typing.
"The customer service that BlueSky Designs provides is very good. Their staff is willing to work with you to figure out what you need, explain how to use the tray and will do a good job of adjusting the tray when needed."