Shane Burcaw: Independence Restored with the Pow!r Mount (Video)
Shane Burcaw Partners with BlueSky Designs
Writer and activist Shane Burcaw has limited use of his upper extremities and has written about living with the disease Spinal Muscular Atrophy. In April 2019, Shane and his now-fiancee Hannah came to the BlueSky Designs office to have a custom Pow!r Mount fitted to his chair. The result was life-changing.
Since then, BlueSky Designs has teamed up with Shane to spread the word about the Pow!r Mount, which delivers a new level of independence to people who use power wheelchairs.
Here's what Shane had to say about the Mount'n Mover Pow!r Mount:
"Last night, for the first time in 10+ years, when I was done working at my laptop for the night, I pushed my computer onto the table, pressed my new button to lower my joystick into position, lifted my hand onto the joystick, and drove into the living room where Hannah was watching TV.

I can't adequately describe the elation I felt having that independence restored. Hannah's look of excitement (and shock) at me entering the room by myself was a beautiful thing.

Thank you so much for creating this product and working to make it available for people. Life-changing is an understatement." - Shane Burcaw
With his Pow!r Mount, Shane can raise and lower his joystick with the push of a button, allowing him to access his laptop or joystick whenever he pleases instead of having someone move it for him.
The Power of Assistive Technology
Watch Shane move his joystick and show how the power of assistive technology can change a life and provide independence.
For wheelchair users with limited use of their upper extremities, wheelchair mounts are essential for using computers and phones, reading, talking with speech generating devices, and even independent suctioning.
Most mounts are static so the wheelchair user must wait for another person to move the mount for them. Static mounts can make it more difficult to transfer out of a wheelchair or move a speech device into place, thereby limiting the users' independence.
Unlike static mounts or movable non-power mounts, the Pow!r Mount is controlled by the wheelchair user with the push of a button.
The Pow!r Mount: A 'Life-Changing Device For People With Physical Disabilities'
Shane's humorous and optimistic outlook on his condition has earned him a huge following on social media. Shane and Hannah made a video about their trip to BlueSky Deisgns for their YouTube channel, Squirmy and Grubs.
Presentations & Conferences
Shane Burcaw and BlueSky Designs have teamed up to present at conferences across the United States, including: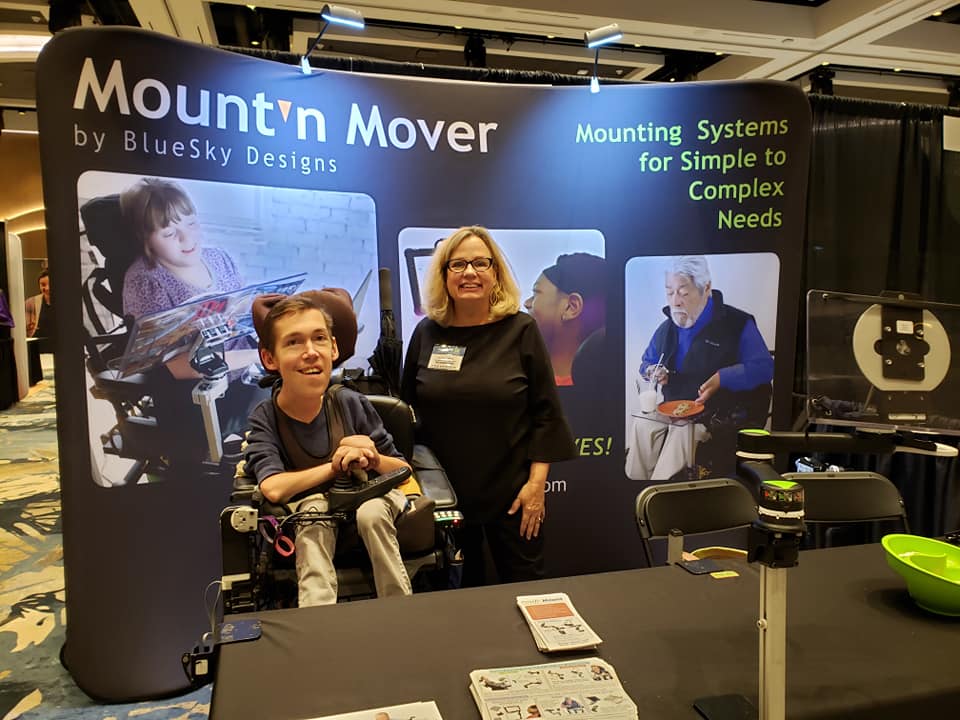 Media Coverage
The partnership between Shane Burcaw and BlueSky Designs has been covered in numerous publications, including:
About the Pow!r Mount
The Mount'n Mover Pow!r Mount is a motorized mounting system, which makes it possible for anyone to move their mount with the flick of a switch! The Pow!r Mount delivers a new level of independence to people who use power wheelchairs.
The first offerings are Hybrid Systems, where a Pow!r joint is added to a manual Mount'n Mover, creating a Pow!r Tilt or Pow!r Shoulder hybrid.
Learn more about the Pow!r Mount or contact us at (888) 724-7002 with any questions.
About Shane Burcaw
Shane Burcaw is a twenty-something young adult with Spinal Muscular Atrophy and a wicked sense of humor. He lives in Minneapolis, Minnesota, where he runs a blog and nonprofit organization dedicated to providing medical equipment to people with muscular dystrophy diseases. His bestselling memoir was shortlisted for the ALA Excellence in Nonfiction Award. His new book, Strangers Assume My Girlfriend Is My Nurse, was released this year. He and his fiancée, Hannah Aylward, are the duo behind Squirmy and Grubs, a YouTube channel that offers a behind the scenes look at their interabled relationship. For more information about his work, please visit: https://us.macmillan.com/author/shaneburcaw/
About BlueSky Designs
BlueSky Designs, a Minneapolis-based wheelchair technology innovator, applies rehab engineering expertise, ergonomics and universal design to develop products that address the needs of people with disabilities — at work, at play, and at home. They design movable mounting systems people can move independently, so they can do more, and do it themselves. For more information, please visit www.mountnmover.com and www.blueskydesigns.us.