Universal Access Stations
Virginia Beach City Public Schools transformed its Special Education program through the use of 30 Mount'n Mover workstations.
The adjustable Mount'n Mover offers a cost-effective Universal Design solution. It provides equal access to students with and without disabilities and makes the educational experience more inclusive for students, parents, staff, instructors and administrators.
Mounted to floor stands, the Mount'n Movers allow educators "to move the equipment through the room and quickly adjust access to attached devices for almost any physical accommodation need a student may have," according to Brian Malsch, the Assistive Technology Specialist for the schools.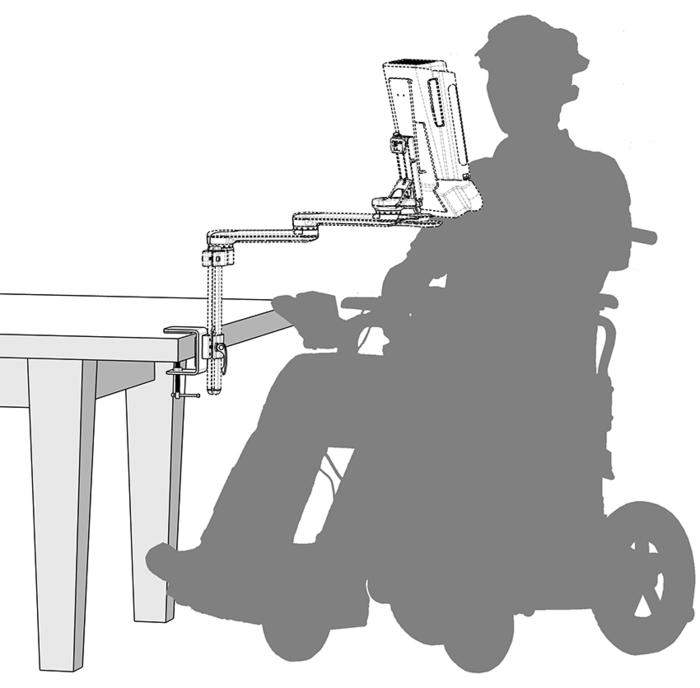 The Mount'n Mover not only increases independence for users but also serves as an essential tool for evaluation centers and technology labs! Use it with the Floor Stand and with different trays to provide a mobile, universal AND height-adjustable access and evaluation station for individuals with and without disabilities.
Read more of what Brian has to say:
"I have observed the Mount'n Movers being used to display iPads in an elevated position for small group instruction and then adjusted to allow all students including those in wheelchairs access to the device. If necessary, the device can be lowered to ground level for students in a prone (lying on the floor) position.
In addition to the variety of positions the Mount'n Mover can provide, teachers like the security offered to the devices. They do not have to worry about an expensive iPad or laptop being knocked to the floor and damaged. This affords more access to equipment for students who have difficulties with gross motor skills or behaviors which might otherwise jeopardize school equipment.
Before moving to Assistive Technology, I was a Special Education classroom teacher for 15 years. I would have loved to have had access to such an adjustable and stable mounting system to hold equipment for my students."
Read more about using the Mount'n Mover at school:
Nicole Carstens, college student
School Testimonials (Contains the above content, plus stories from Nicole and Ken)