Introduction
This page will walk you through how to mount to a Permobil wheelchair equipped with the UniTrack rail system.
UniTrack rails are available on most Permobil wheelchairs either on the seat rail, back canes (we typically do not mount there) and the underside of the armrests.
For mounting to UniTrack, we will use either the Adapter Plate 2 (WC-AP2) or Adapter Plate 4 (WC-AP4).
Wheelchair Adapter Plate 2 (WC-AP2) Wheelchair Adapter Plate 4 (WC-AP4)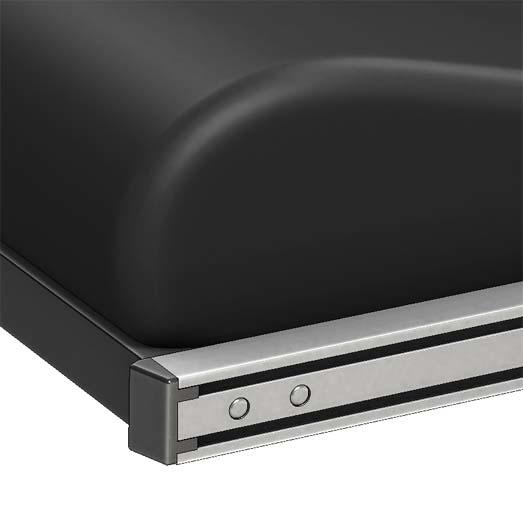 Examples of Permobil Wheelchairs with UniTrack
ATTACHMENT INSTRUCTIONS
1: Clear the UniTrack path for mounting

In most cases with UniTrack, the track will be covered with a plastic cap.
You will need to remove this cap to gain access to the UniTrack.
Some situations my require moving side-supports or transfer aid components along the UniTrack
Remove the cover, and any other obstructions
to inserting the square nuts into the UniTrack
2: Pre-assemble the Screw, Plate and Nuts
Thread all four screws through the plate, and into the square nuts.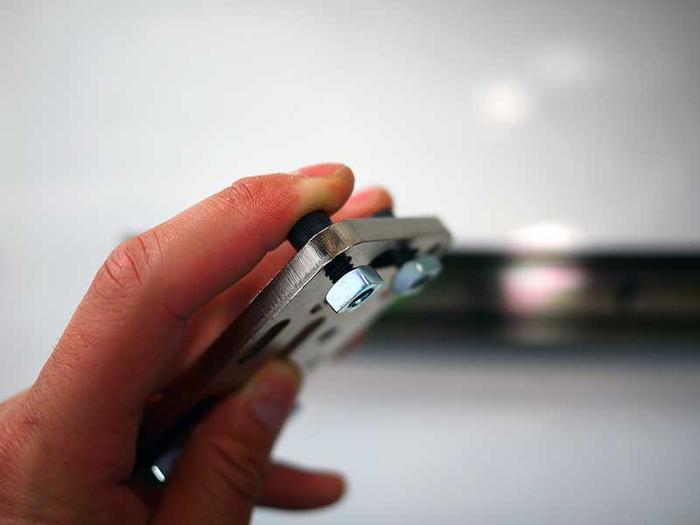 There are multiple orientations/patterns for this plate to thread all four screws.
Orient the plate to whichever position works best for your application (see configurations for AP2 and AP4 plates for examples).
Only use the 6mm holes/slots for these screws.(see here)
Keep in mind that the next component mounting needs to access the four threaded holes.
Be prepared for multiple attempts to get the plate in the right position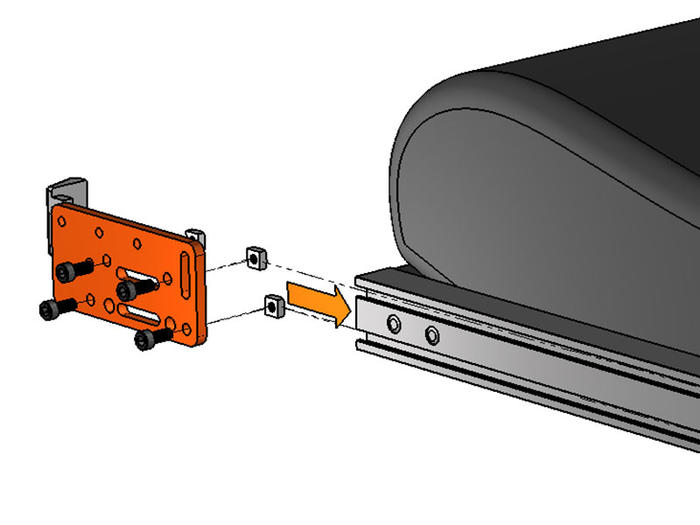 Example: if mounting on the left side of the wheelchair, try and "aim" as many threaded holes towards the intended mounting direction.
3: Insert the Pre-Assembly into the UniTrack
Slilde the pre-assembly (nuts first) into the UniTrack.
Video of that here: inserting into the UniTrack
4: Attach the Wheelchair Bracket (WB2), or Extension
There are many attachment positions available when mounting the next component
Angle Adjustment Plate (WC-AAP)
Adjustible Wheelchair Bracket (WB)
Extension: L-Angle Extension (WC-LAE)
Extension: Adapter Plate 2 (WC-AP2)
Extension: Adapter Plate 4 (WC-AP4)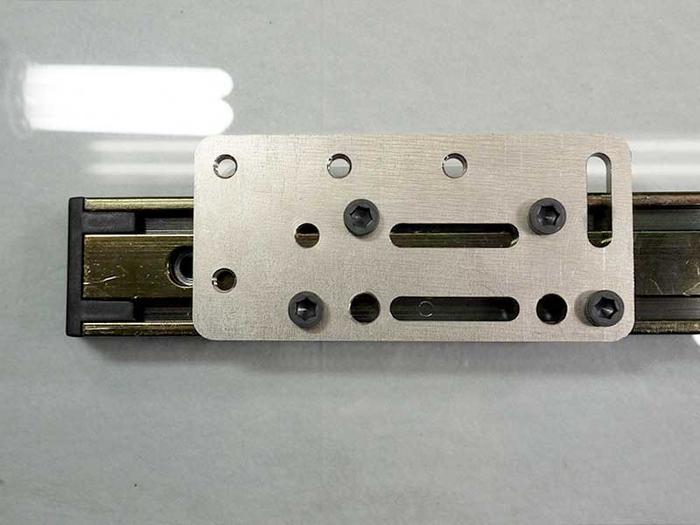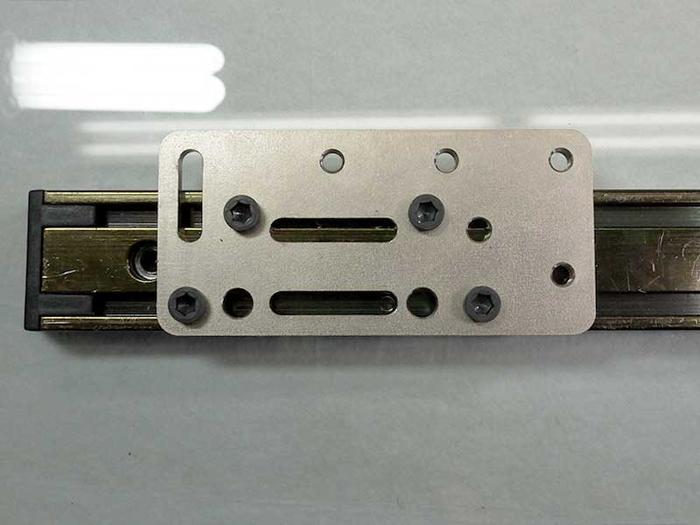 Orientation 1 Orientation 2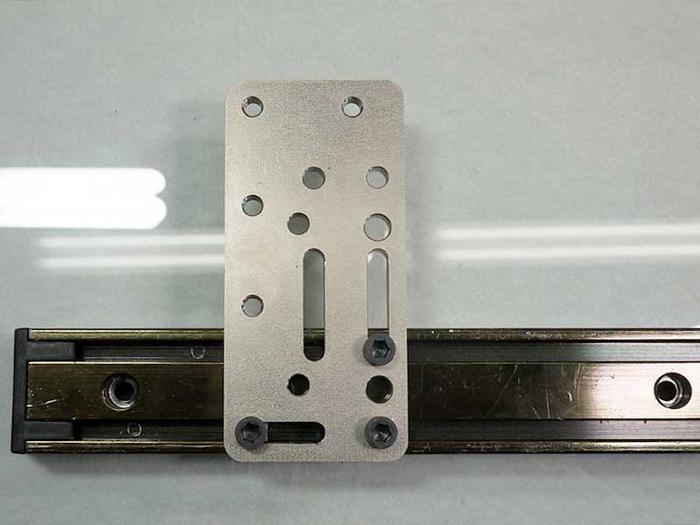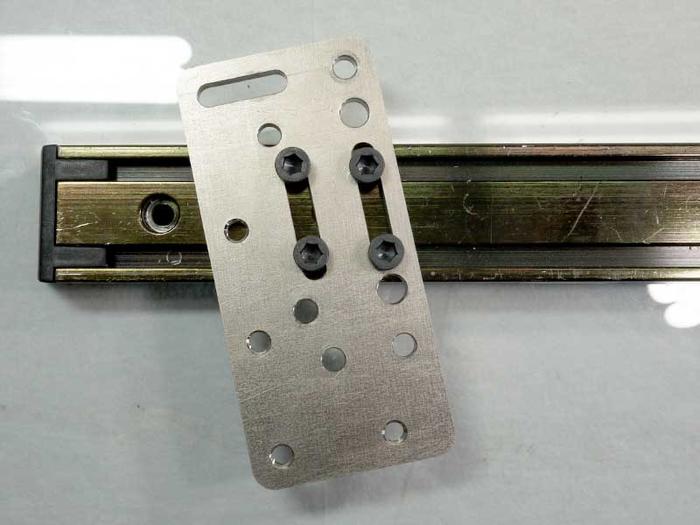 Orientation 3 Orientation 4
Orientation 5
Orientation 1 Orientation 2
(beveled corner upper left-plate horizontal) (beveled corner lower right)
Orientation 3
(beveled corner upper left- plate vertical)
Attaching the Solid Wheelchair Bracket directly to the WC-AP4