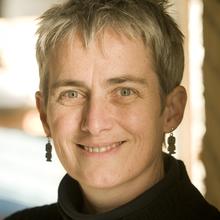 Dianne Goodwin founded BlueSky Designs in 1997 as a result of her vision and commitment to developing innovative products which help people with disabilities do what they want to do. She combines her passion for people and design with her expertise in rehabilitation engineering to create new products and possibilities.
Dianne has extensive experience creating custom solutions for individuals with disabilities and in bringing commercial products to market, including the Specs switch, All-Turn-It Spinner, Freedom Tent, Garden Rocker and Mount'n Mover. Before she discovered Rehab Engineering, she was a drafter at Tonka Toys, and a naturalist and recreation specialist, taking kids with disabiltiies canoeing and camping.
More about Di
Jumpstarts each day with espresso
Walks and plays with her pup Harley, the Holstein terrier
Loves to cook up and share great meals with friends
Hoppy beer, dark chocolate, red wine and black licorice
Favorite winter vacation: snow sculpting in Ely!
Upcoming Events
Please refer to the fly-out menu under Community > Events for all our upcoming events and conferences.
Our Team
| | |
| --- | --- |
| | President / Owner |
| | Designer/Technician |
| | Accountant |
| | Retired / Founder |
| | Retired - Chief Canine Officer (CCO) |
| | Director of Sales and Marketing |
| | Technician/Assembler/Designer |
| | Technician/Assembler |
| | Inventory and Purchasing Manager |