Inventory and Purchasing Manager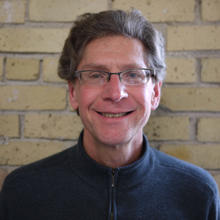 The summer after high school Tom often drove with a friend in his VW beetle past a building covered in ivy vines in south Minneapolis. At the time he was employed as a forklift operator in a toy factory. That job evolved into a career in inventory control, warehouse management and purchasing. After a post-holiday layoff occurred at the toy factory, he began work at a small manufacturing company in Bloomington Minnesota. He stayed there for over 2 decades and had opportunities to do a lot of different things. One of Tom's final tasks for that company was helping to outsource all of their products to overseas suppliers. Consequently, he quickly found himself without employment, and decided to try something completely different.
Tom went back to school to train as a radiologic technologist and learned some new things, the most important of which was that working in manufacturing was what he truly enjoyed. Several decades later, fate led him back to the ivy covered building, where Blue Sky Designs conducts its business. Tom brings the raw materials in and ships the finished products out, and a few things in between, all with our customers in mind.
More about Tom:
Loves music of all kinds and spends much of his leisure time listening to new bands in small clubs as well as attending arena rock events
Avid runner and biker. Plans to spend a summer biking coast to coast in the distant future.
Tried sky diving. Once.
Likes to travel and has been all over the country and Mexico.
Also has been to China. There he told a local resident that he liked lychee and found himself whisked off on the back of a motorcycle to a lychee orchard where he was surrounded by locals who had never seen an American before.
Self-described foodie who likes trying new restaurants in his search for the world's best burger
Upcoming Events
Please refer to the fly-out menu under Community > Events for all our upcoming events and conferences.
Our Team
| | |
| --- | --- |
| | President / Owner |
| | Designer/Technician |
| | Accountant |
| | Retired / Founder |
| | Retired - Chief Canine Officer (CCO) |
| | Director of Sales and Marketing |
| | Technician/Assembler/Designer |
| | Technician/Assembler |
| | Inventory and Purchasing Manager |