Peter Loeffler
Project Manager/Engineer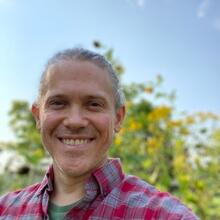 Peter first worked with BlueSky Designs when they built a custom mounting system for a friend with ALS, David Anderson. That rig not only enabled David to communicate with his daughter, wife, and care providers, but also to DJ a new years eve party. A few years later Peter joined the company as the "agent of change" to help the team improve how they work together. He focuses on open transparent communication and empowering through an understanding of what everyone needs to succeed at their role. He introduces the best industry standard practices tailored to BlueSky Designs' culture, drawing from Agile, Lean, and Six Sigma methodologies.
More about Peter:
Studies and teaches Thai massage
Has the travel bug too, recently having been to Peru, India, and Hawaii
Keeping it simple, he loves to garden, prepare delicious food, and explore the natural world
Sign up for our newsletter
Upcoming Events
Please refer to the fly-out menu under Community > Events for all our upcoming events and conferences.