Speech Devices
Introduction to Device Attachment
The Mount'n Mover readily attaches to:
Speech devices (Tobii Dynavox, PRC, Saltillo, Jabbla, ProxTalker and more)
iPads and e-Readers (uses a tray)
Whatever you'd like—provided it is less than 15 pounds
To attach your device to the Mount'n Mover system, you will need to determine how your device can attach to the Quick Release Plate (QRP).
Some devices attach directly to the QRP and others require an additional attachment plate.
Device plates are sorted by communication device manufacturer.
See the listing below for instructions for a particular device.
Trays to support Tablet and Laptop-based communication systems
Attach a device plate to the Quick Release Plate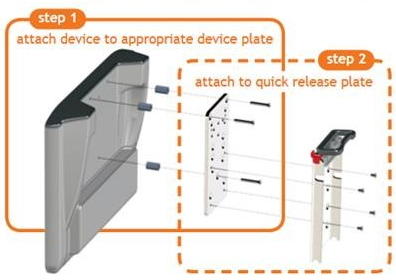 Select below to quote or order
Device Attachment Accessories
Accessories to provide better positioning of speech devices.